Atlanta and the South might be the home to barbecue and fried chicken, but the city has a robust vegan food tradition. Veganism has blossomed in Westview and West End for decades, thanks to the healthier lifestyle movement within the African-American communities and the religious beliefs of the populations in these historic neighborhoods.
The number of people maintaining a plant-only diet in Atlanta has continued to grow, placing it among the top 10 places in the U.S. in the vegetarian lifestyle rankings. Thanks to the diet choices of Atlantans, the city has acquired plenty of vegan restaurants.
Best Vegan Restaurants in Atlanta
One of the best vegan restaurants in Atlanta, Slutty Vegan, has reached a level of fame restauranteurs dream about. However, Atlanta also has hidden gems to please even the most discerning vegans.
 Let's look at some of the best vegan restaurants in Atlanta for locals and visitors to check out:
1.     Slutty Vegan
We start with Slutty Vegan since it is the best-known vegan restaurant in Atlanta. The burger bar started as a food truck, but its popularity ensured its expansion to several locations.
The choice of vegan sandwiches and burgers is impressive. Impossible beef, chicken, and sausage made from plants help create the various dishes with their fun "slutty" names. Some firm favorites from the burger menu include Sloppy Toppy, Ménage a Trois, Fussy Hussy, and One Night Stand. The Big Dawg is the delicious answer to a vegan Hot Dog, and the Hollywood Hooker is a yummy hoagie roll sandwich.
2.     Love'n It Live
Organic ingredients from local farmers are used to create vegan and raw food dishes at another one of the best vegan restaurants in Atlanta, Love'n It Live. Find the restaurant in downtown East Point, a ten-minute drive from Atlanta. Try the Collard Roll for your starter and follow it with the Lentil Burger, Nutmeat Burger, Nut Loaf, Mushroom Steak, or Personal Pan Pizza. Accompany your meal with a beverage like organic lemonade, Sea Moss, or Sorrel.
3.     Cafe Sunflower
Cafe Sunflower has been part of Atlanta's vegan restaurant scene for over 25 years. Here, you can enjoy flavors from several cuisines, including Southwestern American and Asian. Its fantastic choice of dishes continues to make this a favorite place for vegans to enjoy brunch, lunch, or dinner. The Loaded Breakfast Burrito, the Chicken Waffles are dishes to try for brunch. The choices for dinner or lunch include favorites like Crispy Vegan Shrimp Tacos, orzo Eggplant lasagna, and the delicious Curry Bowl.
4.     Hippie Hibachi
If you like the Japanese grilling style of hibachi, then you'll be thrilled to eat at Hippie Hibachi. At the first vegan hibachi eatery in Atlanta, you can order delivery, pick up your meal, or enjoy it at the tables of the food stall. Order your hibachi plate and customize it.
5.     Soul Vegetarian Restaurant
Soul Vegetarian Restaurant creates 100% vegan meals made with the area's freshest ingredients. Located in West End and Poncey-Highland, the restaurant serves southern soul food dishes like mac 'n cheese, cornbread, onion rings, barbecue tofu, and collard greens made with vegan ingredients.
The chapter of the African Hebrew Israelite Community of Jerusalem in Atlanta runs Soul Vegetarian restaurant, so look out for traditional Hebrew food like Jerusalem rice platter.
6.     Herban Fix
Through its mission to create a healthy eating movement, the Herban Fix serves meals that combine Asian cuisines. The team remains dedicated to serving tasty meals made with the freshest ingredients.
Their take on updated traditional flavors makes for delectable dishes that are always well-plated. Plates to try include the Spicy Tofu Soup, Crispy King Oyster Mushroom, Pan Seared Soy Fish, and the Crispy Soy Duck Steamed Buns.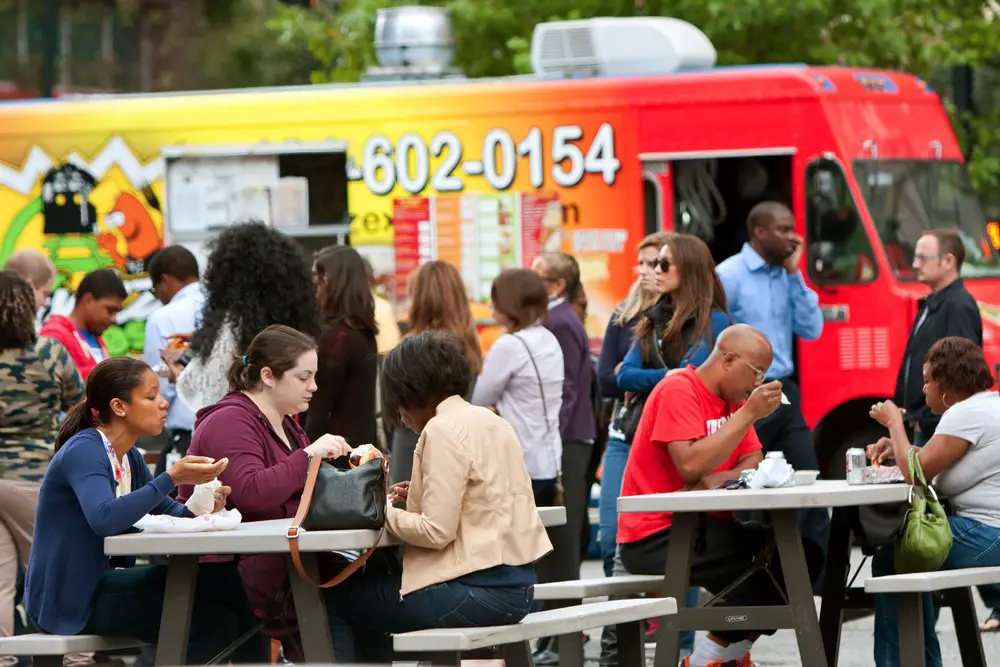 7.     Bar Vegan
Pinky Cole, the person behind Slutty Vegan, recently opened Bar Vegan in the Ponce City Market. Here, patrons can enjoy weekly events and delicious vegan dishes like Green Goddess Pizza, Spaghetti and Meatballz, and the Bistro Steak Tacos made with Beyond Meat. From the starters, try the Jalapeño Agave Cornbread and the delicious caramelized Street Corn.
8.     Atlanta Food Truck Park & Market
Atlanta's permanent vegan fixture came into being two years ago. Known as the Atlanta Food Truck Park & Market, you can enjoy food from several vegan eateries. Look out for weekly and seasonal events like live music and the weekly fresh Harvest market, where you can buy fresh produce.
9.     Plant Based Pizzeria
Everyone loves pizza, but finding a vegan version is not always easy. Plant-Based Pizza has solved that problem for vegans in Atlanta. In NE Atlanta, Plant-Based Pizza's menu has several pizzas made on a light spelt crust and topped with vegan cheese. The Georgia Peach Pizza includes grilled peaches, and the Spinach and Artichokes have roasted basil, ingredients that add an uplifting freshness.
10.  Planted Soul
Initially, you may not think that the food at Planted Soul is vegan, but every plate on the menu is 100% vegan. Planted Soul regulars know about its delicious plant-based shrimp dishes, so this is the place to try if you feel like the vegan version of a "surf and turf" meal. Try the Beyond Soul Burger and Fries for its sumptuous flavor. Other favorites include the mac 'n cheese, candied yams, and the Good 4, a Soul Bowl containing vegan Southern fried wings.
11.  La Semilla
La Semilla (the seed) specializes in Cuban and Mexican flavors using family recipes and adapting them to veganism. The restaurant initially started as a pop-up, but owners Sophia Marchese and Reid Trapani have ensured its success as a permanent feature in Atlanta, ensuring it a place among the best vegan restaurants in Atlanta.
Some of the vegan dishes you must try include the chicken tamals steamed in banana leaves and served with a feisty ancho sauce and the bistec de palomilla; the main ingredient used for the bistec is Lion's Mane Mushrooms. Make reservations to ensure you find a table at the popular La Semilla.
12.  Full Taste Vegan Restaurant
Another fantastic full vegan restaurant in Atlanta, Full Taste's policy is to make everything from scratch for a unique dining experience. Start with a Cheese Plate or the Cajun Deviled Eggs (made with coconut and garbanzo). For your mains, try the decadent Truffle Burger, Creole Shrimp & Grits, and the Spinach Mushroom Frittata with mung bean eggs or the Moroccan Quinoa. Finish off with one of their delicious vegan desserts like coconut cream pie, carrot cake, or blueberry cheesecake.
The Atlanta Eater offers some more ideas for picking one of the best vegan restaurants in Atlanta.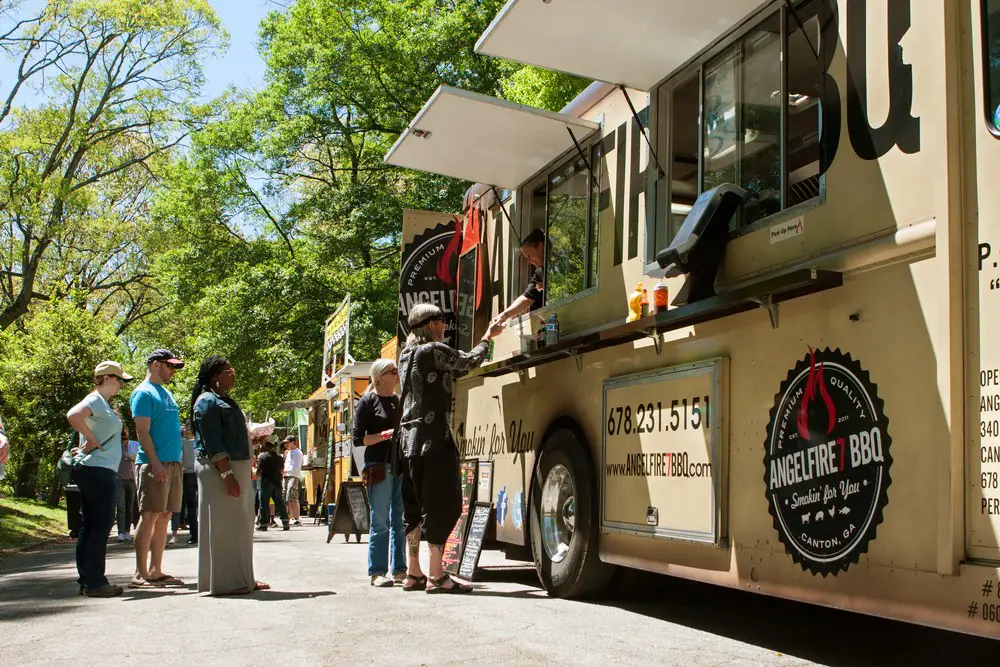 Quick Tips for Enjoying Atlanta's Vegan Scene
Try Multiple Cuisines: From Southern to Japanese to Cuban, Atlanta offers vegan dishes from around the globe.
Local Produce: Check if the restaurant uses locally sourced ingredients for a more sustainable meal.
Vegan Desserts: Always leave room for dessert. You'll find some unique vegan treats to satisfy that sweet tooth.
Special Events: Some places, like the Atlanta Food Truck Park & Market, offer special events. Keep an eye out!
Summary
The Atlanta vegan food scene has something for everyone:
For the Burger Lovers: Slutty Vegan reigns supreme with its various cheekily named burgers.
Soulful and Raw: Love'n It Live captures the essence of raw vegan food, making it a must-visit.
Eclectic Choices: Cafe Sunflower offers vegan dishes from multiple cuisines.
Japanese Twist: Hippie Hibachi brings veganism to the hibachi grill.
Traditional Flavors: Soul Vegetarian gives you Southern soul food that's 100% vegan.
Fusion Flair: Herban Fix combines flavors from different Asian cuisines.
Vegan Nightlife: Bar Vegan lets you enjoy vegan dishes while attending cool events.
Street Food: The Atlanta Food Truck Park & Market offers multiple options.
Pizza Paradise: Plant-Based Pizzeria is your go-to for vegan pizza in Atlanta.
Comfort and More: Planted Soul serves hearty meals with a Southern twist.
Latin Vibes: La Semilla is all about vegan Cuban and Mexican dishes.
Handcrafted: Full Taste makes everything from scratch for a unique dining experience.
So, what are you waiting for? Your vegan food adventure in Atlanta awaits!