If you think that it's impossible to enjoy desserts without eggs and dairy, you are wrong. Vegan desserts are not just for vegans; people opting for plant-based diets will find they make for a healthier option when they want something sweet to finish a meal or feel like a snack.
However, many people think it's impossible to prepare vegan desserts without needing impossible to find ingredients. Others believe that vegan desserts are boring. They are wrong! Here are some easy, healthy, delicious vegan desserts everyone can enjoy.
Essential ingredients like fruits, coconut milk, dark chocolate, nuts, and natural sweeteners can replace eggs and dairy products like butter and cream in vegan desserts.
Vegan Alternatives for Baking
Sweeteners are an essential element for any dessert. Besides sugar, as a vegan, you can opt for healthier sweeteners like bananas, dates, agave syrup, maple syrup, and coconut nectar.
Binding your confections is also essential. Since you don't want to use eggs, nutritious vegan alternatives include chia seeds, applesauce, nut butter, aquafaba, and silken tofu.
Of course, natural flour is vegan. However, you may prefer to replace refined white flour with alternatives that add more nutritional value and encourage gut health. These include oats, nut-based flour, cornmeal, and spelt.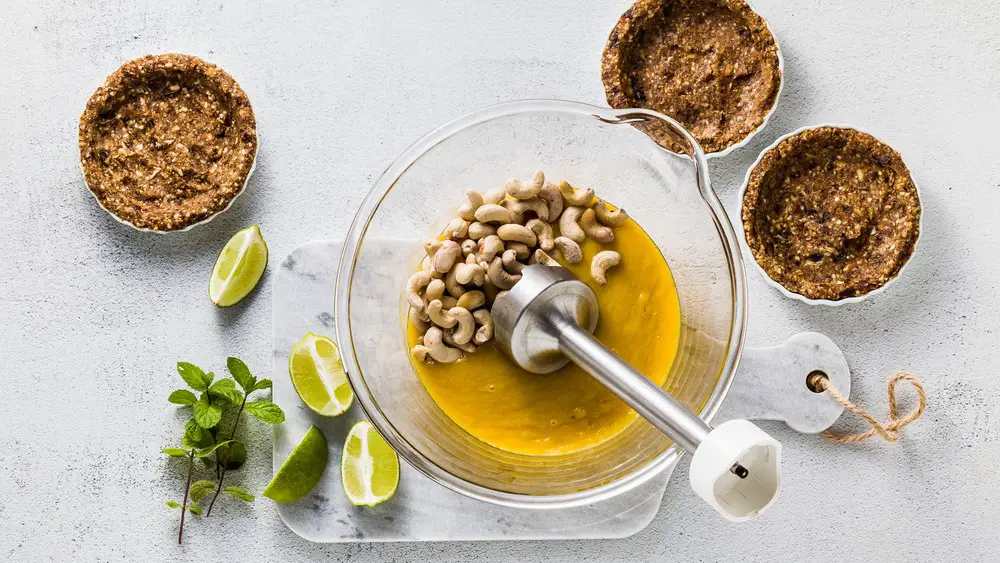 Easy, Healthy, and Delicious vegan Desserts
The vegan desserts featured here are very easy to prepare and require staples that most of us have at home. They are also healthy and so delicious, everyone at home will enjoy them.
1. Fast Fruit Tart
For this tart you only need four ingredients. These are one packet of puff pastry, some sweetener, a vegan alternative for whipped cream, fresh berries or any other fruit you prefer.
Directions
Preheat oven to 400 degrees F or 200°C. Place unfolded puff pastry on a lined baking pan. Score a 3/4-inch border around pastry with a knife. Bake the pastry until puffed and golden (it should take about 15 minutes). Use the parchment to transfer the base to a wire rack. Allow to cool completely before decorating with whipped vegan cream and fruits.
2. Different Vegan Ice Creams
Vegan sorbets and creams are perfect for serving after a meal or as an afternoon snack. Try these easy recipes:  
Honeydew, Cantaloup or Watermelon Granitas
Combine a quarter cup of your sweetener of choice with a quarter cup of water and bring to a boil. Simmer on reduced heat for a few minutes until the sugar dissolves. Add half a cup of chopped basil leaves as soon as you remove them from the heat and allow them to cool completely.
Now add about 5 cups of your preferred fruit to the food processor and blend it with the cooled syrup and a quarter teaspoon of salt. Strain into a pan and freeze until firm before serving.
Pumpkin Pie Vegan Ice Cream
Use 4 medium-sized ripe bananas and one can of pumpkin puree to make a delicious ice cream that needs no sugar. Add one and a quarter spoon of pumpkin pie and two tablespoons of maple syrup and blitz the ingredients together in a food processor. Freeze until firm.
Mango Strawberry Vegan Ice Cream
Alternatively, you mix 12 ounces frozen mango chunks, 8 ounces of frozen strawberries and a quarter tablespoon lime juice in your food processor to make a strawberry mango ice cream. You will need about half a cup of water to ensure the fruit becomes smooth. Freeze until firm.
Lemonade and Raspberry vegan Ice Cream
Here is a recipe with bananas for a creamy ice cream alternative. Place 3 frozen sliced bananas into the food processor. Add 2/3 cups of frozen raspberries or other mixed berries, 2 tablespoons of lemon juice, and 1 tablespoon of lemon zest. Process until smooth and freeze until firm.
3. Easy Gluten-Free Chocolate Ganache Tart
Everyone loves a chocolate dessert. Here is a ganache tart that's so easy to prepare:
You will need
1 cup shredded coconut (sweetened)
1 cup crushed salted gluten-free pretzels
1/2 cup rice flour
1/2 cup melted coconut oil
3 tbsp. brown sugar or another sweetener
2 tbsp. unsweetened cocoa
1 cup coconut milk
6 oz. finely chopped vegan dark chocolate, finely chopped
Directions
While heating the oven to 375°F (190°C) grease a 9" tart pan with a removable base.
Combine the shredded coconut, pretzels, rice flour, coconut oil, sugar, and cocoa in a bowl. Firmly and evenly press the mixture into the bottom and on the sides of the prepared pan. Place the pan on a baking sheet into the oven and bake 10 minutes. Remove from the oven and cool.
Prepare the ganache by heating the coconut milk in a small pan until it bubbles at the edges. Whisk it occasionally. Place the chocolate and a salt pinch into a heatproof bowl and pour the hot coconut milk over. Leave it to stand for five minutes and then whisk until smooth.
Pour into the cooled tart shell and refrigerate until set (about 2 hours). Once set you can cover the tart and keep it refrigerated for up to 2 days. Decorate with pomegranate seeds or dust it with cocoa powder before serving.
4. Delicious No-Bake Coconut Chia Pudding
You will need
1/2 cup black chia seeds
3 tbsp. agave syrup
2 tsp. pure vanilla extract
1/8 tsp. Kosher salt
One 14-oz. can of coconut milk
1 cup non-dairy milk
Fruit and pumpkin seeds for serving (you can also serve with chocolate shavings or maple syrup)
Directions
Combine the chia seeds, syrup, vanilla, and tsp salt in a large bowl. When you are sure there are no clumps, whisk in the coconut and almond milks. Transfer into individual jars and refrigerate for at least 2 hours before serving with your preferred topping.
Fudgy Vegan Brownie
Brownies are the all-time favorite dessert, and these vegan ones are so easy to make.
Ingredients
4 oz. roughly chopped bittersweet chocolate
1/3 cup refined coconut oil
1/2 tsp. instant espresso powder (optional)
3/4 cup granulated sugar
1/3 cup nondairy milk at room temperature
1/2 tbsp. cornstarch
1 cup all-purpose flour
1/4 cup Dutch process cocoa powder
3/4 tsp. baking powder
1/2 tsp. kosher salt
Directions
Start to preheat the oven to 350°F or 180°C while you line an 8"-x-8" pan with aluminum foil.
Next, microwave the chocolate and coconut oil on medium power, stirring every 30 seconds until the chocolate is completely melted. Now whisk in the sugar, milk, cornstarch, and espresso powder (if using).
Mix the flour, baking powder, cocoa powder, and salt in another bowl. Now fold the dry ingredients into the wet ingredients. You don't want to overmix, so stop when they are just combined. Next, spoon the batter into the baking pan and spread it into an even layer. Baking should take about 25 minutes, but you can insert a toothpick in the center to check.
Do vegan desserts contain any animal products?

No, vegan desserts do not contain any animal products such as dairy, eggs, or honey. They are made with plant-based substitutes like coconut milk and vegetable oil.
What are some easy vegan desserts to make?

Some easy vegan desserts include no-bake chocolate oat bars, peanut butter energy balls, lemon raspberry truffles, chocolate chip cookies, and banana bread. These recipes require minimal ingredients and few steps in the preparation process.
Are vegan desserts healthy?

Yes, vegan desserts can be healthy with natural ingredients like fruits, nuts, and plant-based milk. You should avoid processed foods or artificial sweeteners for a more nutritious dessert.  You could also opt for healthier alternatives to traditional desserts, such as fruit salads and smoothie bowls.  These easy healthy vegan desserts can be a great treat without compromising your health.