A vegan pizza is a pizza that does not contain any animal products, including cheese. Vegan pizzas are made with plant-based ingredients and are dairy-free and egg-free. Keep on reading if you want to know more about what is a vegan pizza.
There are many reasons why someone might choose to eat a vegan pizza. For some, it's an ethical choice; they may believe that it's wrong to harm animals or use animal products. Others may have dietary restrictions or allergies that prevent them from eating animal products. And still, others prefer the taste of a vegan pizza!
Whatever the reason, there are now many delicious vegan pizza options available. You can find vegan pizzas at most major pizza chains and many independent pizzerias. There are also numerous recipes for making vegan pizza at home.
What's on a Vegan Pizza?
A vegan pizza can be topped with any number of delicious ingredients. Typical toppings include vegetables like mushrooms, onions, peppers, and tomatoes; fruits like pineapple; plant-based meats like tofu or tempeh; and dairy-free cheese. Many vegans also enjoy sauces like pesto or barbeque sauce on their pizzas.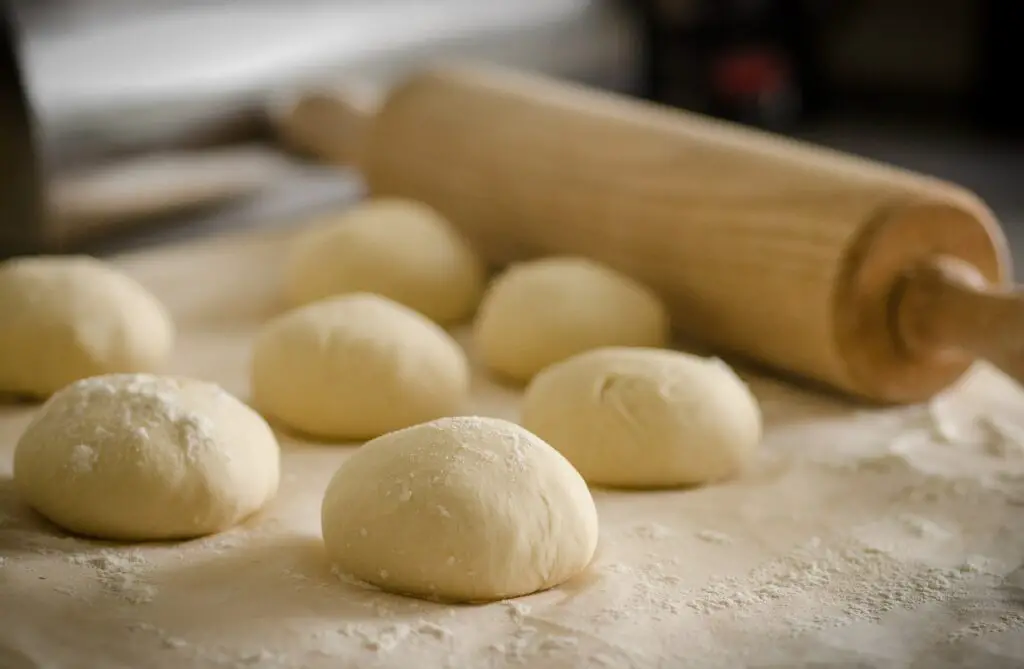 How to Make a Vegan Pizza
If you'd like to try making your vegan pizza at home, there are a few things you'll need to know. First, you'll need to find a recipe or create your own. Then, you'll need to gather the necessary ingredients.
A critical ingredient in a vegan pizza is dairy-free cheese. There are many brands of vegan cheese on the market, or you can make your own using ingredients like cashews, nutritional yeast, and plant-based milk.
Another important consideration is the type of dough you use. Unfortunately, most store-bought pizza doughs are not vegan, as they contain milk or eggs. However, it's easy to find vegan pizza dough recipes online, or you can purchase pre-made vegan dough from some specialty stores.
Once you have all of your ingredients, you're ready to start cooking! Vegan pizzas can be cooked in a regular oven or on a pizza stone. If you're using a pizza stone, preheat it before adding your pizza. Many delicious vegan pizza recipes use various ingredients like olive oil, roasted garlic, vegan parmesan, fresh basil, wheat crust, cherry tomatoes, red pepper flakes, etc.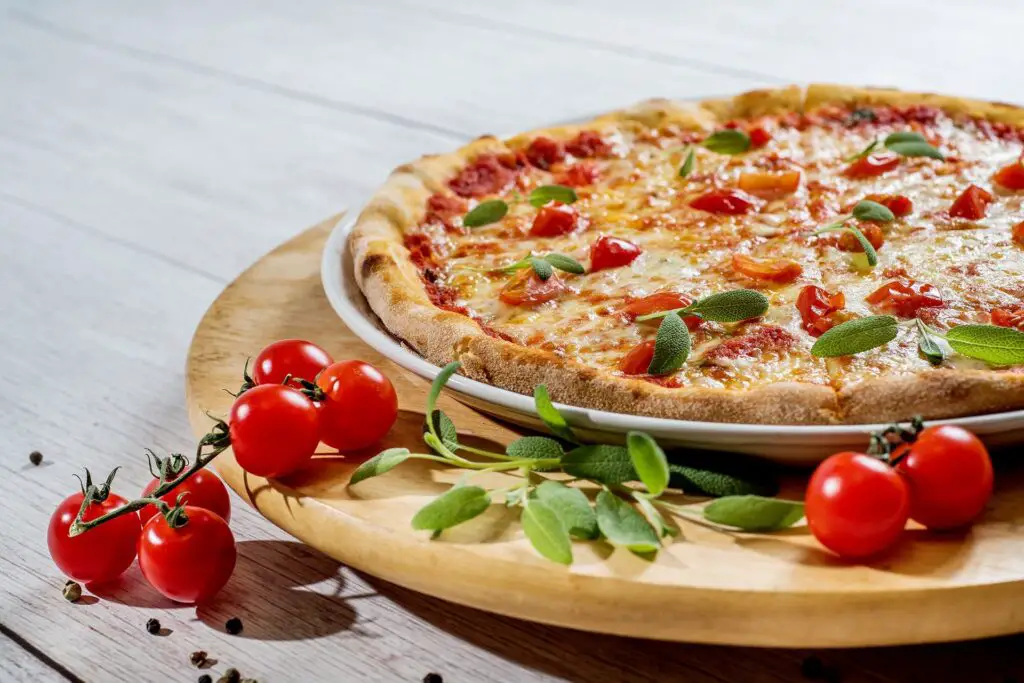 As you cook your vegan pizza, keep an eye on the cheese to ensure it doesn't burn. Your pizza is ready to eat once the cheese is melted and bubbly and the crust is golden brown!
Health Benefits of Vegan Pizza
In addition to being delicious, vegan pizza has several health benefits. It is made with plant-based ingredients, and it is naturally low in saturated fat and cholesterol. Additionally, vegan pizza is often high in fiber and antioxidants.
If you're looking for a healthy way to enjoy pizza, vegan pizza is a great option!
There are many reasons to love vegan pizza. It's delicious, nutritious, and kind to animals! So if you're looking for a tasty vegan pizza recipe.
Ingredients:
One store-bought or homemade vegan pizza dough
1 cup tomato sauce
1/2 cup dairy-free cheese
1/2 teaspoon oregano
1/4 teaspoon garlic powder
Drizzle of olive oil
Your favorite pizza toppings (vegetables, plant-based meats, etc.)
Instructions:
Preheat the oven to 350 degrees Fahrenheit.
Roll out the pizza dough on a floured surface. Spread the tomato sauce over the dough, leaving a 1-inch border. Sprinkle the cheese over the sauce. Sprinkle the oregano and garlic powder over the cheese. Add your favorite toppings. You can add extra virgin olive oil, vegan mozzarella, celery ranch dressing, white garlic sauce, etc. You'll have the best vegan pizza recipe for deep dish pizza.
Bake for 15-20 minutes, or until the crust is golden brown and the cheese is melted and bubbly. Slice and serve immediately. Enjoy!
Vegan Pizza Options at Major Pizza Chains
Pizza Hut – Vegan pizza is available at all Pizza Hut locations in the United States. The chain offers a vegan version of its classic cheese pizza and a "supreme" pizza with vegetables and plant-based meat toppings.
Domino's – Domino's offers a few different vegan pizza options, including a "veg out" pizza with vegetables and a "cheese-less wonder" pizza with no cheese.
Little Caesars – Little Caesars offers a "vegan Veggie Pizza" with dairy-free cheese and vegetables.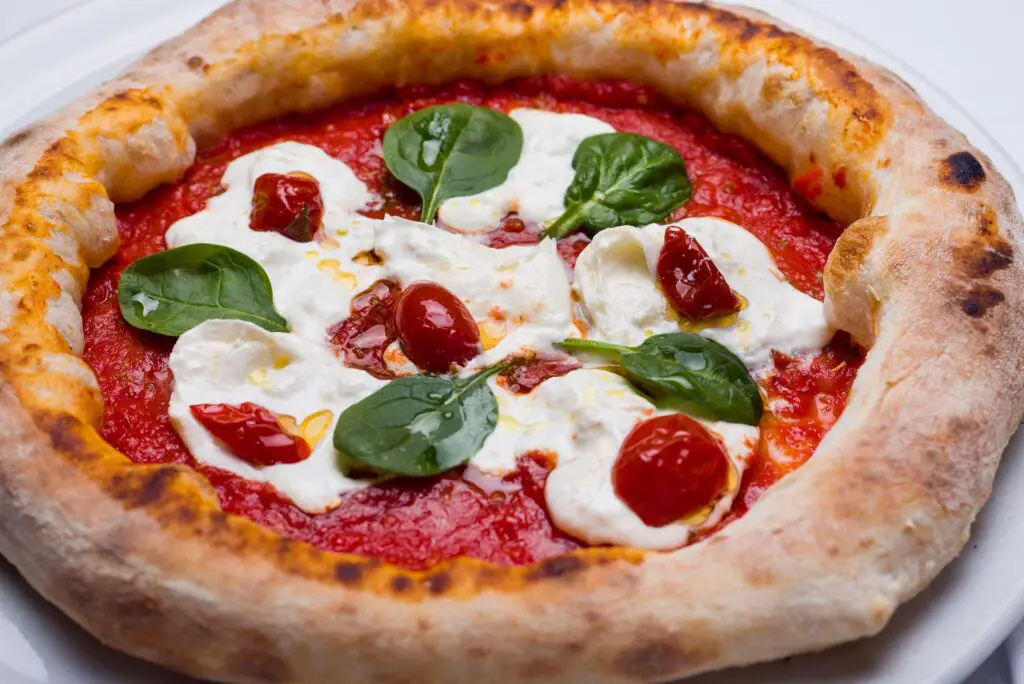 Independent Pizzerias
Many independent pizzerias offer vegan pizza. To find one near you, try searching online for "vegan pizza" + your location.
Some popular vegan pizzerias include:
Blaze Pizza – Blaze Pizza has locations across the United States and offers a "high-rise" dough that is vegan and gluten-free.
Mellow Mushroom – Mellow Mushroom has locations in the United States, Canada, and abroad. The chain offers several vegan pizza options, including a "karma" pizza with vegetables and a "house special" with plant-based sausage.
PIZZA PURISTS REJOICE!
You can now enjoy your favorite food without any guilt – vegan pizza is here to stay! Vegan pizza is an excellent option whether you're looking for a quick and easy weeknight meal or a fun weekend project. So grab some dough and get cooking!
How to Make Homemade Pizza Sauce?
Ingredients:
1 (15-ounce) can of diced tomatoes, with their juice
1/2 teaspoon of garlic powder
One teaspoon of dried oregano
1/4 teaspoon garlic powder
One teaspoon of tomato sauce
1/4 teaspoon onion powder
1/2 teaspoon dried oregano
1/4 teaspoon black pepper
Instructions:
1. Add all ingredients into a blender, and blend until smooth.
2. Pour the sauce into a saucepan, and heat over medium heat until it comes to a simmer.
3. Reduce the heat to low, and let the sauce simmer for about 10 minutes.
4. Use immediately, or store in an airtight container in the fridge for up to 1 week.
Yield: 2 cups of sauce.
This sauce is so easy to make, and it's so much better than anything you'd find in a jar! This recipe makes enough for 2 (14-inch) pizzas. If you're making a smaller pizza or like a thinner crust, you may want to halve the recipe.
What are some of your favorite vegan pizza toppings? Let us know in the comments below!
Conclusion
A vegan pizza is a delicious and cruelty-free option for anyone who wants to enjoy a classic dish without harming animals. You can easily make your vegan pizza at home with a few simple ingredients.
Check out other articles.
Vegetarian Diet Pros & Cons – What The Doctors Say
Pear, Arugula, and Pancetta Salad
Health Benefits of Eating a Vegetarian Diet