Looking for a delicious, healthy, and quick vegan lunch option? Look no further. As more individuals embrace plant-based diets, the demand for delicious and convenient vegan-friendly meals is rising. Finding options that satisfy taste buds and nutritional needs without sacrificing convenience is essential.
This article will explore various vegan lunch ideas that can be easily prepared at home or at work. These meals are perfect for those short on time but still want to enjoy a satisfying, nutrient-rich lunch on a busy schedule. From sandwiches and wraps to salads and grain bowls, these recipes offer various options for those seeking delicious vegan lunches without compromising on taste or quality.
With increasing awareness of the benefits associated with plant-based diets, there is no better time to try these quick vegan lunch ideas. Not only will they save time and offer convenience, but they will also showcase the versatility and flavor of vegan cuisine. Whether new to veganism or a seasoned plant-based eater, these lunch ideas are perfect for keeping meals exciting and wholesome.
Quick Vegan Protein Sources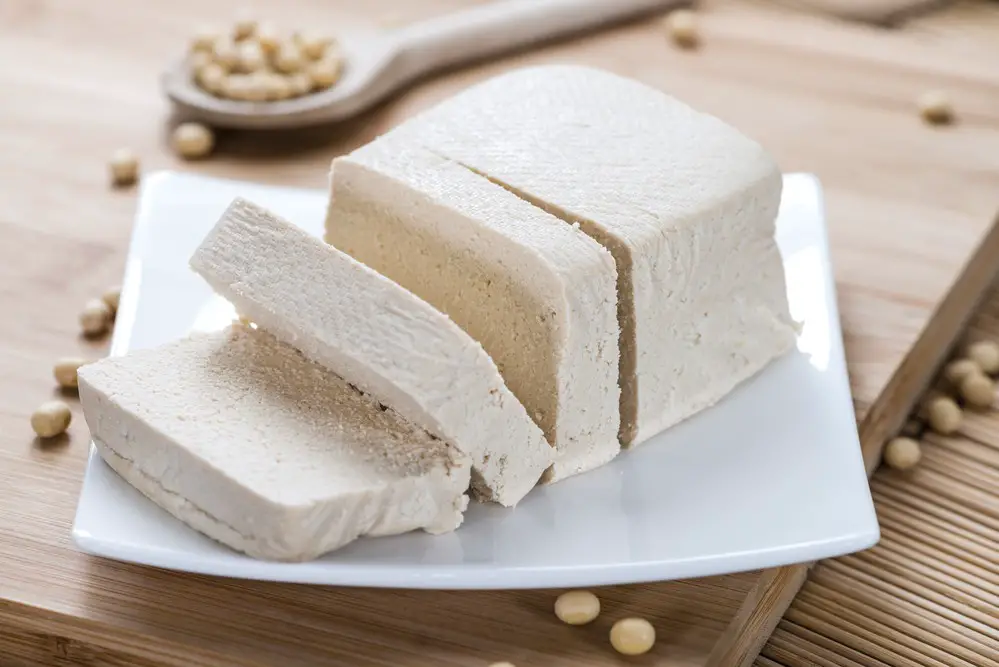 Tofu and Soy Products
Tofu, or bean curd, is a versatile and nutritious vegan protein source from soybeans. It's high in protein, iron, and calcium while being low in calories and fat. A 3.5-ounce serving of tofu contains around 8 grams of protein. Soy products, such as tempeh and edamame, are also rich in protein, fiber, and essential amino acids. For instance, a 3.5-ounce serving of tempeh provides about 18 grams of protein.
Beans and Legumes
Beans and legumes are an excellent source of plant-based protein, fiber, and essential nutrients. Black beans, for example, offer around 15 grams of protein per cup, iron, and fiber. Other popular high-protein beans and legumes include lentils, chickpeas, and kidney beans. In addition to their protein content, these foods are also great sources of vitamins and minerals, making them a healthy addition to any vegan lunch.
Grains and Seeds
Certain grains and seeds are well-known for their protein content and can be easily incorporated into a quick vegan lunch. Quinoa, often called a pseudo-grain, is one of the few plant-based foods that provide all nine essential amino acids. A one-cup serving of cooked quinoa contains about 8 grams of protein. Chia seeds and flaxseeds are also high in protein and can be added to smoothies, oatmeal, or yogurt for an extra protein boost.
Nut butters like almond, peanut, and sunflower seed butter offer protein and healthy fats. A 2-tablespoon serving of almond butter provides roughly 7 grams of protein, making it a delicious and convenient option for a high-protein, dairy-free snack.
Incorporating these quick vegan protein sources into your lunch will not only help meet your protein needs but also contribute to a healthy and well-balanced diet.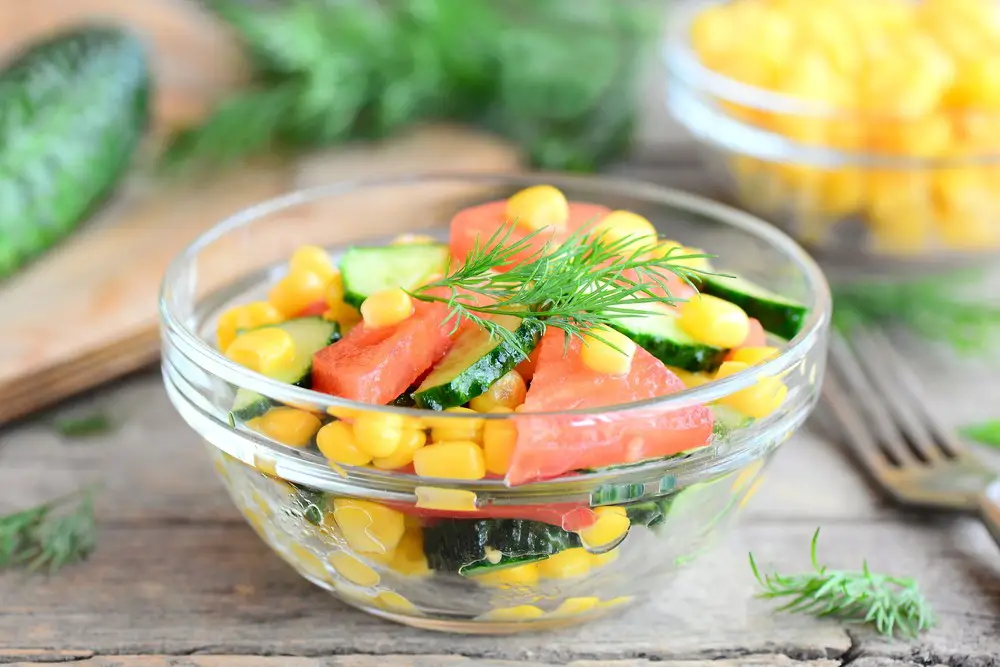 Vegan Lunch Ideas
Wraps and Sandwiches
A quick and easy vegan lunch option is wraps and sandwiches. Fill them with delicious ingredients like hummus, chickpea salad, or a vegan BLT. Make a protein-packed chickpea salad sandwich with mashed chickpeas, vegan mayo, celery, and onion. Or enjoy a vegan BLT sandwich with crispy tofu, lettuce, and tomato.
Chickpea wraps with tahini sauce
Buffalo chickpea wraps with lettuce and avocado
Vegan egg salad sandwich with tofu and mustard
Salads and Bowls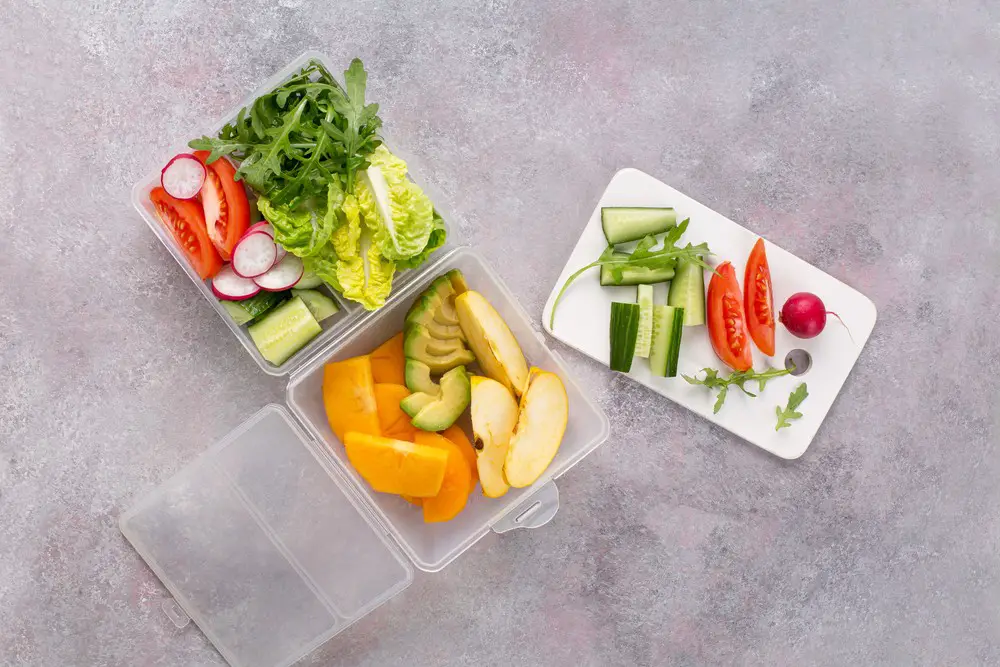 Try making salads or bowls with various ingredients for a healthy and filling vegan lunch. Mix and match ingredients like quinoa, brown rice, cauliflower or zucchini noodles for a satisfying, nutrient-dense meal.
Tabbouleh with parsley, tomatoes, and bulgur
Thai quinoa salad with edamame, red peppers, and peanut sauce
High protein white bean salad with greens and vinaigrette
Here is an example table of ingredients for a Vegan Chickpea Winter Salad:
| Ingredient | Quantity |
| --- | --- |
| Chickpeas | 2 cups |
| Kale | 4 cups |
| Red onion | 1 small |
| Dried cranberries | 1/2 cup |
| Pumpkin seeds | 1/3 cup |
Soups and Stews
Warm and comforting, soups and stews can make for a wonderful vegan lunch. For a satisfying meal, try making dishes like black bean soup, vegetable chili, or potato soup with coconut milk.
Vietnamese green noodle soup with tofu and bok choy
Tex-Mex lentil stew with tomatoes and corn
Mushroom and barley soup with fresh herbs
Pasta Dishes
Pasta dishes are always a hit, especially for those following a vegan diet. Try making pasta salads, such as a red pesto pasta with sun-dried tomatoes, or experiment with zucchini noodles for a lighter option.
Vegan pasta salad with olives, artichokes, and capers
Creamy mushroom pasta with almond milk and nutritional yeast
Zucchini noodle salad with roasted red pepper hummus
These vegan lunch ideas offer various tasty options to enjoy, whether you're looking for a quick meal or something more elaborate. Utilizing ingredients like protein-packed beans, grains, and vegetables, these recipes cater to a diverse range of plants and flavors, making for an enjoyable and nutritious midday meal.
FAQs
What are some quick vegan lunch ideas for busy days?
There are various quick vegan lunch options to choose from, such as:
Veggie wraps or sandwiches using hummus, avocado, or vegan cheese
Protein-packed salads with grains like quinoa or barley, beans, and fresh vegetables
Rice or noodle bowls topped with tofu, tempeh, or seitan
Smoothie bowls with fruits, nuts, seeds, and plant-based milk
How can vegans get enough protein during lunch?
Vegans can get enough protein by incorporating plant-based sources of protein in their lunch, such as:
Beans, lentils, and chickpeas
Whole grains like quinoa, barley, and brown rice
Tofu, tempeh, and seitan
Nuts and seeds, such as almonds, chia, and flax
Green leafy vegetables like spinach and kale
Are there any vegan grab-and-go lunch options available?
Various vegan grab-and-go lunch options can be found in grocery stores or cafes. Look for items like:
Pre-made salads with plant-based protein and dressing on the side
Vegan sandwiches or wraps made with whole-grain bread and plant-based fillings
Plant-based protein bars or shakes
Fresh fruit or vegetable snack packs
Trail mix or veggie chips
By selecting these options, one can enjoy a quick vegan lunch even when short on time.
What is a good meal prep strategy for vegan lunches?
Meal prepping for vegan lunches can be done efficiently by using the following strategies:
Plan a menu for the week, considering personal preferences and nutritional needs.
Make a shopping list and purchase all needed ingredients and containers.
Choose one or two days for meal prep and dedicate time to cook, assembling, and portioning meals for the week.
Focus on versatile ingredients that can be used in various dishes for variety.
Store meals in airtight containers and refrigerate or freeze them as needed.
This approach will ensure easy-to-grab vegan lunches for the entire week.