Veganism is becoming increasingly popular thanks to its positive effects on the body. As a result, more people are embracing it or willing to enjoy vegan meals with other vegans.
So, you are expecting vegan guests and don't know where to find the right ready snacks. Please don't panic because it is far easier to throw a few snacks together to please them than you thought. Find out which 31 excellent snacks you can serve, whether you need savories, sweets, or both.
1.      Original Flavor Ritz Crackers
A platter of savory vegan snacks with vegetables and dips requires an accompaniment like bread or crackers. The original flavored Ritz Crackers contain no animal products and consist of unbleached enriched flour, vegetable oil, sugar, salt, leavening, high fructose corn syrup, soy lecithin, malted barley flour, and natural flavoring. 
2.      SuperPretzel Soft Pretzels
You can have these microwavable pretzels ready in about a minute, and they are a great vegan snack for guests. Then, add them to platters with other snacks or dips for a fascinating display.
3.      Vegan Hot Dogs
Find your favorite vegan hot dog sausages and make a platter of hot dogs with fresh buns and a few accompaniments like fried onions, hummus, freshly sliced vegetables, and sauces. Delicious!
4.      Fritos Corn Chips
Look out for naturally salted corn chips and read their labels. Fritos original corn chips contain just corn, corn oil, and salt. These are great for serving with vegan dips for savories to accompany your favorite drink.
5.      Spicy Sweet Chili Doritos
These tortilla chips are great if you want to prepare Mexican-style snacks for your vegan table. Serve them with guacamole and salsa. Remember, only the Spicy Sweet Chili flavors are vegan.
6.      Mcvitie's Hobnob Chocolate Chip
Not all chocolate chip cookies are vegan, but McVites use only soya lecithin and cocoa powder to ensure they are free of animal-based products. Serve these for your guests after dinner or when they pop in for an afternoon tea or coffee.
7.      Cadbury's Drinking Chocolate
Chocolate drink lovers that follow a vegan diet want to know that their chocolate powder is entirely vegan. So whether your guests prefer their chocolate drink hot or cold, Cadbury's Drinking Chocolate is perfect with plant-based milk.
8.      Pillsbury Crescent Rolls
Thanks to their palm oil content, Pillsbury Crescent Rolls contain no dairy. So either bake them into plain crescent rolls and fill them with your desired fillings or get creative and make pinwheels with sweet or savory fillers to delight your guests.
9.      Lotus Biscoff Spread
Fill your Pillsbury Crescent Rolls with a delicious vegan chocolate spread like Lotus Biscoff Spread. You can also use the chocolate spread for vegan shakes and finishing-off cakes.
10. Pringles
Pringles are one of the most popular snacks globally but choose your flavors carefully to ensure they are vegan. Their vegan flavors include Original, Sweet Chilli, Paprika, Smokey Bacon Flavor (thanks to the yeast and salts used for this flavoring), and Texan BBQ Sauce. Unfortunately, their Salt and Vinegar flavor is NOT vegan because of the milk-derived lactose they use.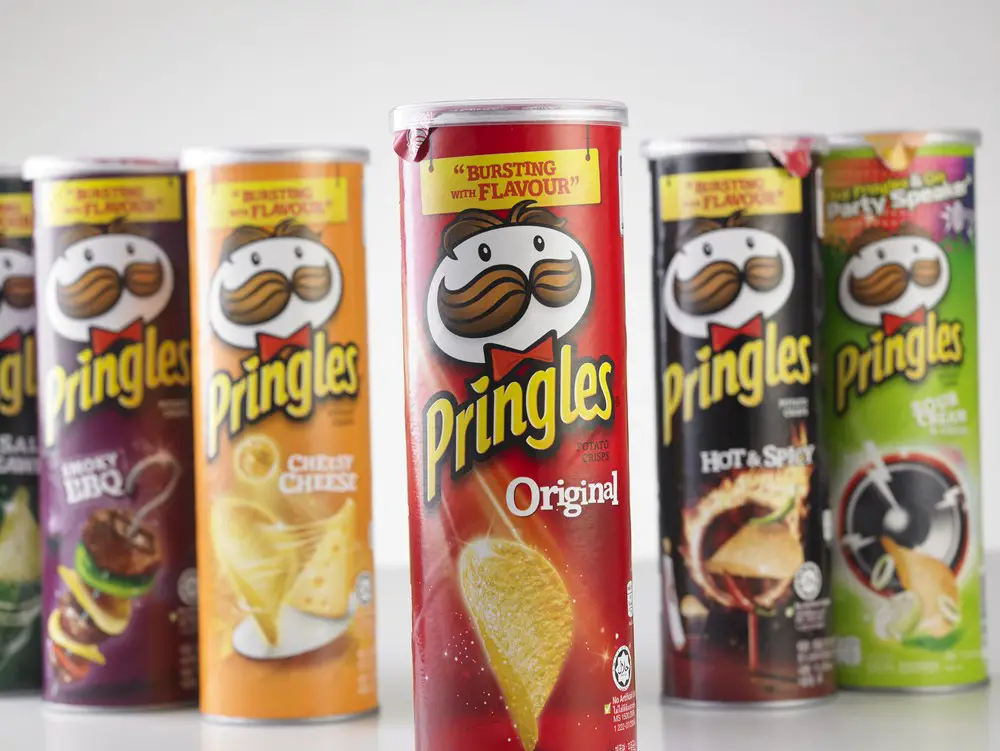 11. Oreos 
Oreos contain no animal products, and these delicious biscuits remain firm favorites worldwide. However, the biscuit factories make other products with milk and animal-based ingredients.
12. Chocolate Bourbons
Some chocolate bourbons don't contain any animal-based products, so check that the ones you buy are vegan.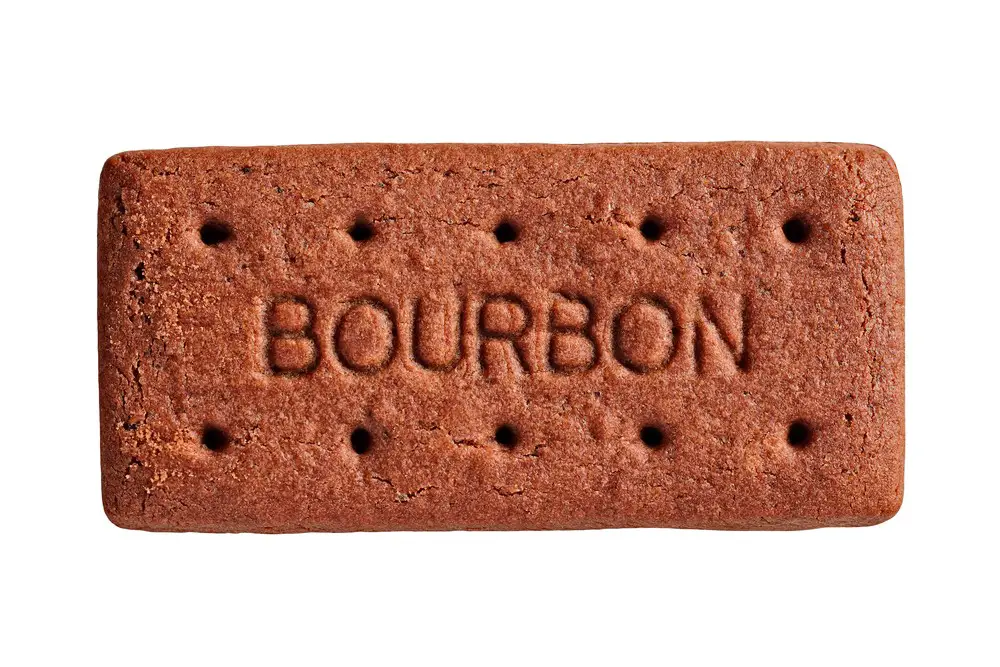 13. Pipcorn Snacks
Whether you want to serve some popcorn, cheese balls, dippers, or crackers with drinks, Pipcorn has many vegan snacks. Included are all their popcorn flavors, even Caramel Popcorn, Corn Dippers, Cheese Balls, Crunchies, and Snack Crackers.
14. Jus-Rol Sourdough Pizza Base
Pizza is a popular snack with vegans, but you may not have time to prepare the dough for the base if you are in a great rush. It takes just minutes to add the toppings to the Jus-Rol Sourdough bases and bake them, all ready for a pizza snack.
15. Mr Kipling Tarts and Pies
Not all Mr Kipling's products are vegan except their Treacle Tart and Apple & Blackcurrant Pies. Serve these as dessert after dinner or when your guests pop in for a quick morning or afternoon visit.
16. Stacy's Pita Chips
Everyone loves pita chips because of their versatility. Stacy's has four vegan varieties to serve with hummus – Italian Harvest, Simply Naked, Multigrain, and Veggie Medley.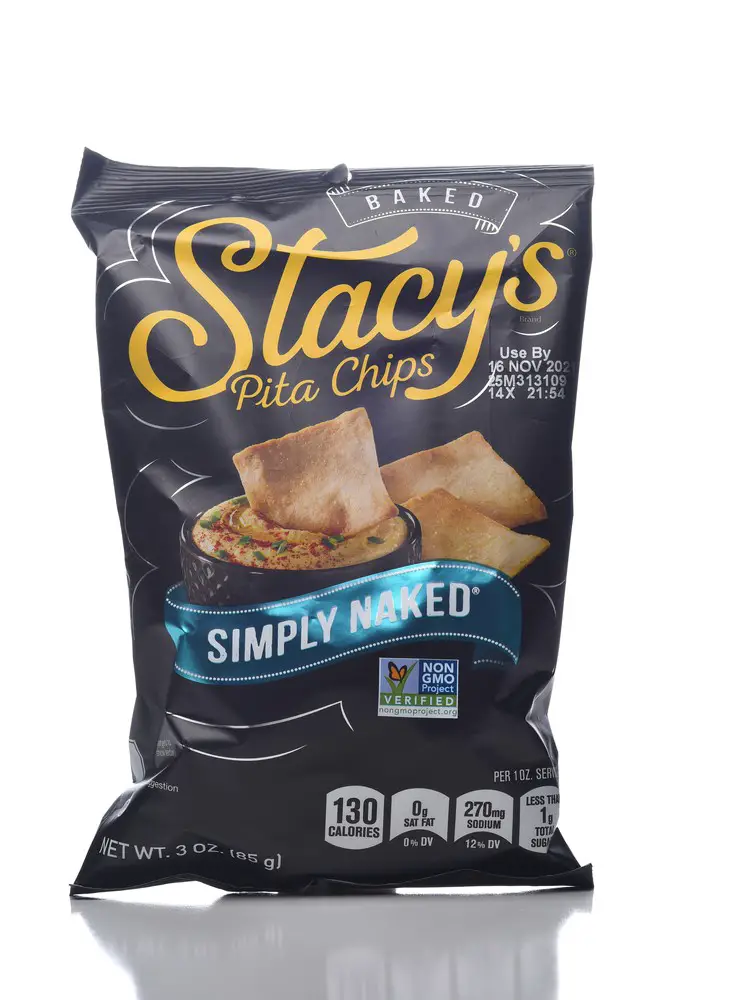 17. Warburtons Crumpets
Unlike most bread, crumpets and pancakes usually have animal products like milk and eggs. However, Warburtons Crumpets are a vegan option that you can serve with maple syrup or chocolate spread for a morning tea or after dinner.
18. Batchelors Chicken Flavoured Super & Pot Noodles
Batchelor's is not a dedicated vegan environment, so they may not be suitable for you if you mind. However, if you don't mind, you may be thrilled to know that some of their super and pot noodles are entirely vegan. In addition, their vegan packs include Mild Curry, Peri Peri Chicken, and Chow Mein, allowing you to serve them with various side dishes for guests.
19. Baco-os Bacon Flavor Bits
Create colorful and flavorful salads with these vegan bacon-flavored bits.
20. Thai Kitchen Noodle Bowls
Why not serve a soup with bagels to guests for an amazingly delicious vegan meal. Thai Kitchen has several vegan rice noodle varieties. Look out for their Thai Peanut, Mushroom, Roasted Garlic, and Hot & Sour varieties.
21. Simply Potatoes
Simply Potatoes has two vegan potato varieties for you to serve with meals. These include Red Potato Wedges and their Diced Potatoes with Onion. Use them baked on their own or make potato-based dishes by adding vegetables.
22. Luigi's Lemon or Strawberry Real Italian Ice
These sorbet style icecreams are ideal for serving as a snack, especially after dinner with fruit or pie. Made with real fruit juice, they are not only vegan but low in calories.
23. Starburst 
Most sweets contain gelatine and other animal products, but Starburst is entirely vegan.
24. Skittles
Skittles are delicious, affordable, and suitable sweets for vegans. They are also great for colorful displays on cakes.
25. Turkish Delight
Turkish Delight is a perfect sweet that has been around for ages. Most varieties are vegan but check the packaging to ensure that the one you prefer does not contain animal-derived gelatine or milk.
26. Sour Patch Kids
If you like your sweets sour, these jelly-like ones are delicious and vegan.
27. Morrisons / ASDA / Co-op Donuts
Morrisons, ASDA, Co-op's Jam, and Custard Doughnuts are the ideal donut snack to serve your guests for a vegan dessert or tea-time treat.
28. Betty Crocker Cake Mix 
Several Betty Crocker cake mixes are vegan. Add other vegan options to them instead of eggs, and you can whip up a quick cake that you can serve at any time of the day when guests pop in.
29. Haribo Sweets
If you are looking for a variety of delicious vegan sweets, then Haribo has several in its arsenal. Their Sour Rainbow Strips, Freaky Fish, Funny Mix, Giant Strawbs, and Rainbow Strips are just some.
30. Green & Blacks Dark Chocolate
The Velvet Edition bars with dark chocolate are primarily suitable for vegans because they contain cacao nibs.
31. Lindt Excellence Cocoa Bars
Lindt Excellence Cocoa bar variations of 70% to 99% dark chocolate are made with cocoa and are vegan-friendly. The perfect treat to end a dinner party.
So, there you have it. 31 amazing vegan snacks that will knock the socks off your guests (and hopefully make them converts, too). Whether you are looking for savory or sweet options, we've got you covered. And if you want even more ideas, be sure to check out our list of 7 Easy & Healthy Snacks to Keep You Fueled Throughout Your Workday. With such a wealth of deliciousness at your fingertips, there is no excuse not to serve up something special for your vegan friends and family members!