It does not mean you cannot enjoy a dessert because you're vegan. Whether you prefer to make your own desserts, buy them at your local food store, or eat one after a meal at your favorite restaurant, you can have an excellent variety to choose from when you want to indulge in vegan sweets. Follow our guide to delicious animal-free desserts.
What are Vegan Deserts?
A vegan dessert does not include any animal-derived product. Therefore, it's free of dairy products (milk, butter, yoghurt, etc.) and does not contain eggs, honey, or any animal gelatin.
Instead, vegan sweet confections replace these ingredients with only plant-based ones. And surprise, surprise, they taste just as yummy. Even your non-vegan friends will love them.
If you prefer to make your desserts, plenty of vegan cookbooks have delicious recipes. However, you can also take existing recipes and veganize them.
Replace animal-based ingredients with the following for traditional recipes: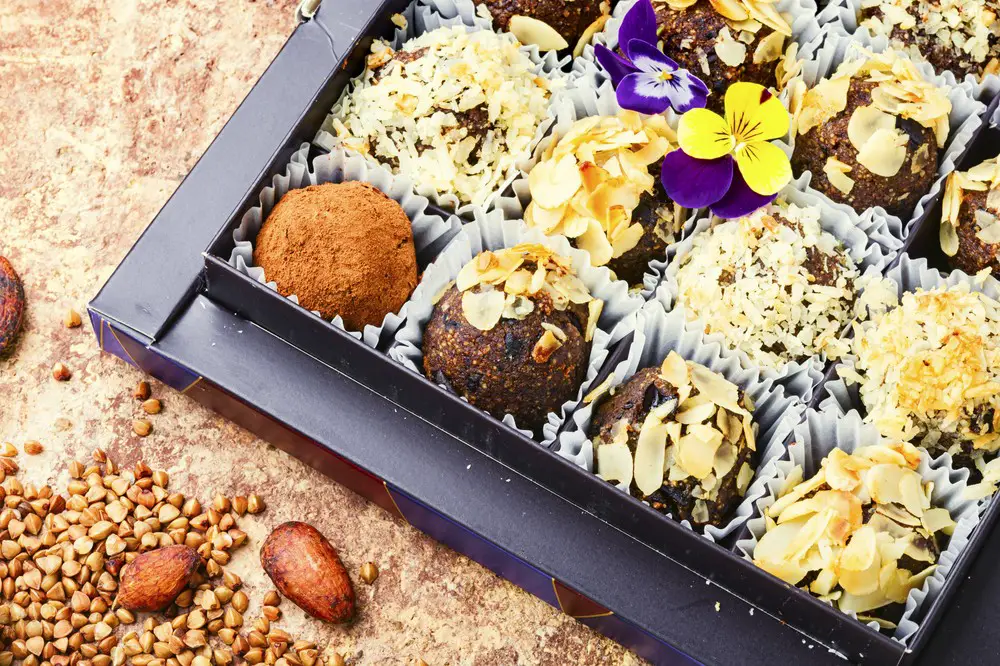 Milk and dairy
Almond, soy, oat, and rice milk are a small sampling of plant-based milk you can use to replace milk in a traditional recipe.
You can also use plant-derived yogurt or cream to replace products made with dairy.
Tofu makes an excellent replacement for cheese in desserts.
Replace butter with margarine (it's best to use non-hydrogenated) or your vegetable oil of choice.
Make ice creams, plant-derived milk, and fresh fruit, or use only fruit purees to make sorbets.
Finally, cooking or dairy-free chocolate is the best replacement for milk chocolate.
Eggs
When a pastry or bread recipe requires an egg or two, you can replace the eggs with one or two tablespoons of water.
You can substitute a whole egg with flour or corn flour and water when making cakes. Other excellent substitutes for eggs include mashed bananas, creamy tofu, apple puree, or flaxseed ground with some water. Finally, vegetable oil is one of the most accessible substitutes for eggs in cake recipes. To help firm the cake mixture, replace some flour with cornstarch or tapioca flour. The quantity is about one tablespoon per cup of flour. Finally, if your traditional recipe for puff pastry dough calls for eggs, use carbonated mineral water instead.
Honey or White Sugar
Herbal and grain syrups are the best replacement for honey. These include agave syrup, corn malt, barley rice, or molasses.
Replace white sugar with brown sugar.
You can also sweeten your creations with dried fruits (dates, raisins, etc.).
Animal Gelatin
When a recipe calls for gelatin, replace it with agar algae or pectin.
Here Love & Lemons provides 30 satisfying dessert recipes to help you indulge in vegan sweets.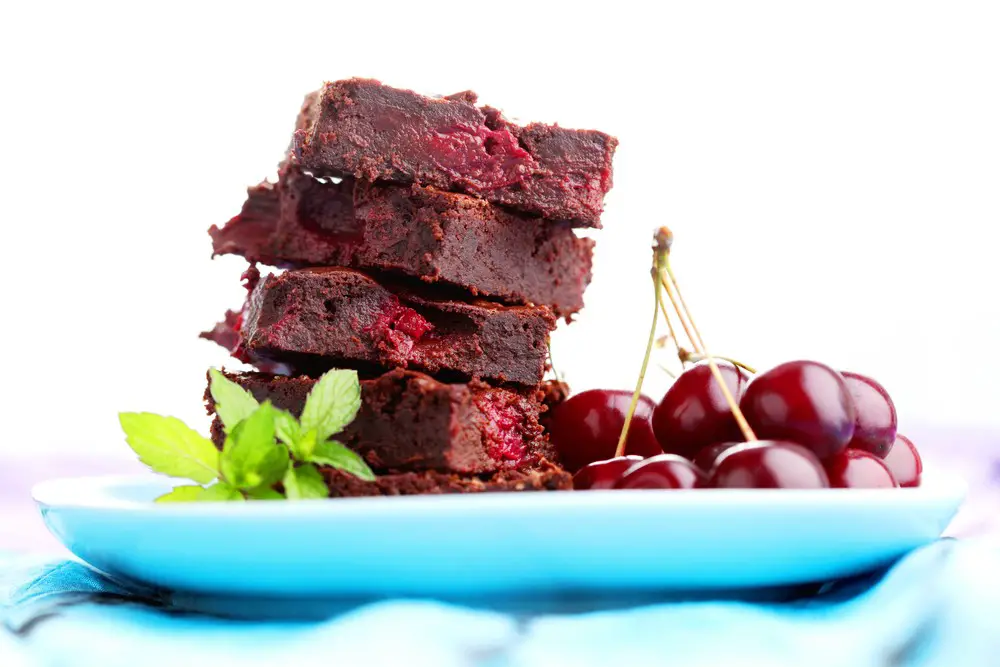 Finding a Vegan Bakery Near You
Around the world, it has become easier to find vegan-friendly bakeries or bakeries providing vegan desserts exclusively.
Whether you live in a vegan-friendly city or plan to travel, Happy Cow is a phone app that helps you find vegan-friendly establishments near you. Besides maps to vegan-friendly eateries or bakeries, the app also includes reviews and ratings.
All the mainstream food stores also have vegan-friendly foods, baked goods, and desserts. An excellent shopping option for vegans is Whole Foods Market, where you can find the widest variety of vegan desserts, including donuts, puddings, cupcakes, cookies, and cakes for any celebration.
If you prefer to receive your vegan desserts at your doorstep, the following are vegan bakers that offer nationwide shipping:
1. Fat Badger Bakery
Receive your individually-wrapped vegan cookies in a cute box from Fat Badger Bakery, where you can choose from their standard or seasonal flavors. In the fall, they have delicious maple-glazed pumpkin cookies, and their vegan brownies in winter are divine. You can also send gift certificates or place orders for parties and events.
2. Southern Roots Vegan Bakery
Get the vegan version of your favorite southern desserts without compromising their taste. You can order various desserts at Southern Roots Vegan Bakery, including cakes, donuts, brownies, rolls, etc. You can also send gift certificates.
3. Karma Baker
If you're looking for gluten-free, vegan desserts, Karma Baker has all your favorites, including their cake in a jar. Once you receive your delivery, you can freeze all products for up to three months.
4. Coco Luv Plant-Based Bakery
As a family-owned vegan bakery, Coco Luv Plant Based Baker provides a massive range of vegan dessert offerings made with love. Our favorites are their Danish pastries and lemon bars.
5. Abe's
Whether you like ordering some muffins for your breakfast or catering for an event, Abe's has a huge range of vegan baked goods. You can also find most of their products at major retailers, including Whole Foods Market.
6. Hale Life Bakery
The mother-son duo started Hale Life Bakery after getting a Celiac diagnosis. Theirs was the first gluten-free, allergy-friendly, vegan bakery in Tampa, Florida. They make everything from vegan bread to waffles, ensuring you can continue enjoying all your favorite baked goods and desserts.
7. Erin McKenna's Bakery
The vegan and gluten-free delights are ideal for the health-conscious patrons of Erin McKenna Bakery. Their refined offerings contain minimal natural sweeteners sparingly, and for those with allergies, their desserts and bread are also gluten-free, wheat-free, and soy-free.
8. Naturally Sweet Desserts
The delectable vegan desserts at Naturally Sweet Desserts contain no refined sugars or flours. They also contain no preservatives. Try their delicious cheesecake.
9. Sticky Fingers Eats & Sweets
Doron Petersan, the two-time winner of the Food Network's Cupcake Wars, started Sticky Finger Eats & Sweets. Besides the delicious cupcakes and brownies, you can order kits to bake or decorate your confections yourself.
10. Yvonne's Vegan Kitchen
French-trained chef Yvonne Ardestani founded Yvonne's Vegan Kitchen for those looking for healthier snacks and dessert options.
Several mainstream bakeries also provide vegan options that they ship to other locations or in-store. One of the most known is New York-based Chip City Cookies, but World of Vegan offers a more comprehensive guide.
11. Jeni's Splendid Ice Creams
Jeni's Splendid Ice Cream is the perfect choice if you're in the mood for vegan ice cream. Their dairy-free products include super creamy flavors like Brown Butter Almond Brittle, Brambleberry Crisp, and Roasted Peanut Butter & Strawberry Jam.
12. Vegan Divas
Vegan Divas provides an array of delicious cakes, cupcakes, pies, cookies, bread, brownies, and more for those looking to satisfy their sweet tooth without compromising taste or health. Their products are also free of wheat flour and refined sugar.
13. Tasty Bakery
Tasty Bakery is a plant-based bakery that offers vegan cakes, cookies, macarons, cupcakes, and more. Their delicious treats are all-natural, with no artificial ingredients and minimal added sugars.
14. Sublime Bakery
Sublime Bakery provides guilt-free vegan desserts, including brownies, cakes, muffins, and donuts. With the help of healthy substitutes like almond milk and maple syrup instead of processed sugars or dairy products, Sublime's baked goods guarantee the same sweet indulgence without sacrificing flavor or nutrition.
15. The Bakehouse at Pomegranate
For something special in your vegan dessert cravings, The Bakehouse at Pomegranate has beautiful cakes for delivery. They provide vegan cakes in flavors such as salted caramel, chocolate mocha, and lemon raspberry.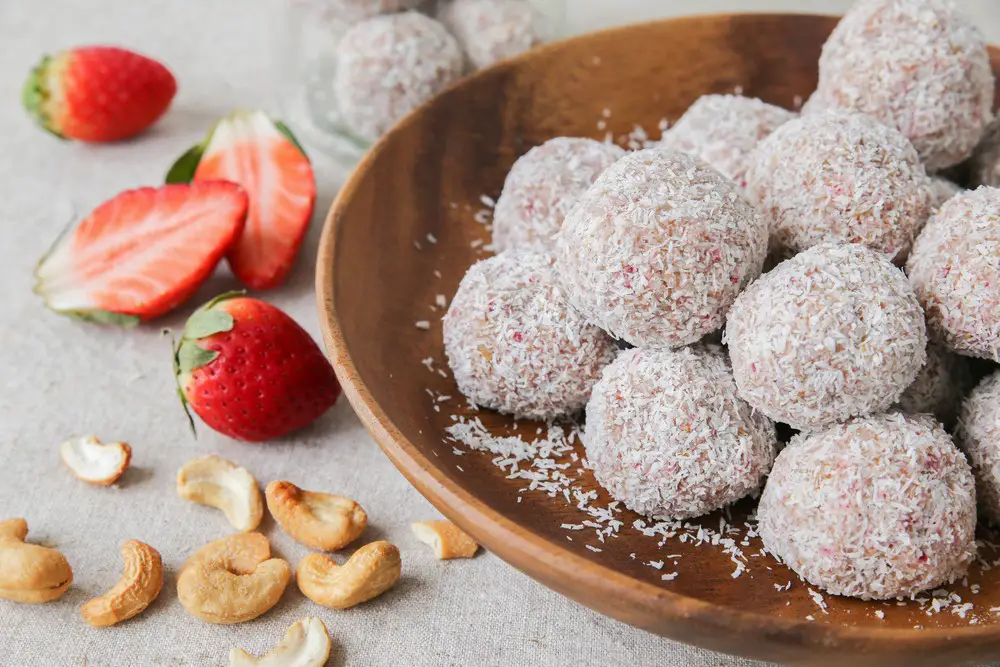 Final Take
Making your own desserts makes it easier to ensure they're vegan. However, that doesn't mean that you cannot indulge in vegan sweets if you don't have enough time. If you're buying your desserts at your local store, always read the food label to ensure your desserts don't contain animal-derived products. Finally, you can also support your local or an online plant-based bakery, where you can rest assured their sweet and savory baked goods never include animal products.
FAQs
What ingredients can I use to make vegan cakes?
When baking vegan cakes, use non-dairy milk alternatives like almond or rice milk and replace eggs with mashed bananas, creamy tofu, apple puree, flaxseed ground with some water, or vegetable oil. You can also replace some flour with cornstarch or tapioca flour. If your recipe calls for animal gelatin, you can replace it with agar algae or pectin.
Where can I find vegan desserts?
You can find vegan-friendly bakeries in many cities around the world. You can check out Happy Cow for a list of vegan-friendly establishments near you. Furthermore, most mainstream food stores, including Whole Foods Market, have vegan-friendly baked goods. Additionally, a few online bakeries offer nationwide delivery of their vegan desserts, such as Fat Badger Bakery, Southern Roots Vegan Bakery, Karma Baker, Coco Luv Plant-Based Bakery, and more.
What if I can't find any vegan desserts near me?
Even if you don't live in a vegan-friendly city or have limited access to vegan dessert options at your local store, you can always make your treats with plant-based ingredients. Many recipes are available online for animal-free cakes, cookies, cupcakes, and other sweets. As long as you check the ingredients' labels to ensure they're vegan, you can recreate all your favorite desserts without compromising the taste.
Are vegan desserts healthier than regular ones?
While some vegan desserts may be healthier than their non-vegan version due to the plant-based ingredients and fewer processed foods, it is best to check labels as not all vegan products are healthy. Many vegan desserts are still high in sugar and calories, so watching portion sizes and the food label when indulging in these treats is important. Additionally, many online bakeries offer special dietary options such as gluten-free, refined sugar-free, low-calorie or organic options that can provide a healthier substitute for more traditional sweets.
Are vegan desserts expensive?
Vegan desserts can range from affordable to pricier, depending on the bakery and type of treat you're looking for. Generally, vegan treats are more expensive due to plant-based ingredients. Prices may also depend on buying a single item or an entire box. For those on a budget, there is still a wide variety of affordable options available at online and traditional stores. It is also possible to make your animal-free desserts with ingredients found in most regular grocery stores