Discovering Sonic's vegetarian options can challenge those seeking plant-based meals at fast-food restaurants. This guide will provide an in-depth look at Sonic's vegan and vegetarian menu items, so those seeking plant-based meals can enjoy the same flavor and nutrition when dining out.
We'll delve into Sonic's burger offerings, including veggie burgers and potential future additions like the Impossible Burger. Next, we'll discuss their salads, fries, sides, and vegan sauces that can elevate your meal experience.
Finally, learn about their refreshing drinks and desserts suitable for vegan customers and any special offers they may have. Stay tuned for valuable information regarding Sonic's allergen guide and the nutritional content of these delicious Sonic vegetarian options.
Table of Contents:
Vegetarian Options at Sonic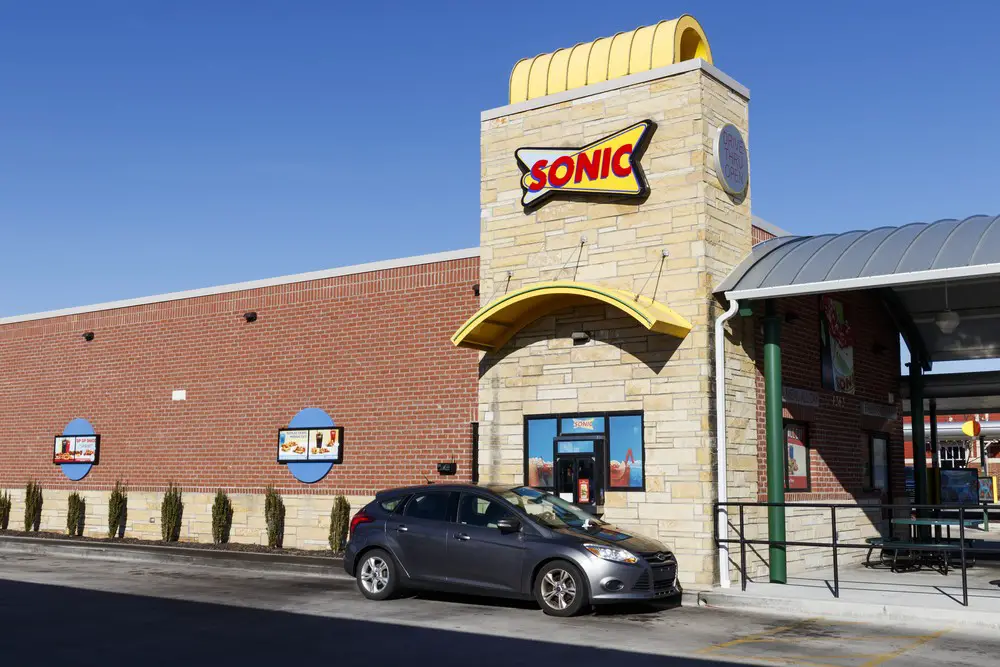 If you're a vegan looking for delicious and satisfying meal options, look no further than your local Sonic Drive-In. Sonic's vegetarian options range from their Signature Slinger, made with a plant-based patty, to other tasty offerings. In this section, we'll explore some of these delicious offerings.
Vegan Burgers: Although unavailable in all locations, Sonic has introduced their Signature Slinger made with a plant-based patty. This burger can be customized to suit your vegan preferences by removing cheese and mayonnaise.
Tater Tots & Fries: Both regular fries and tater tots are cooked in vegetable oil, making them suitable for vegans. Just ask about any shared fryer usage if cross-contamination is a concern.
Pretzel Twist: The Pretzel Twist is another great option as it's free from animal-derived ingredients when ordered without butter or cheese sauce.
Sides & Extras: Customize your meal with other sides like sliced apples or jalapeño peppers, which are vegan-friendly choices.
Vegan diners can customize salads by excluding dairy-containing items like cheese or dressing. For example, try ordering the Garden Fresh Salad without croutons or cheese and with a vegan dressing like the balsamic vinaigrette.
It's important to note that menu offerings may vary by location. Therefore, we recommend checking their online menu (embedded at the bottom of this article) or contacting them directly before visiting to ensure you're getting accurate information about your local Sonic Drive-In's vegetarian options.
Vegetarian options at Sonic are plentiful and offer something for everyone. But, moving on, vegan burgers at Sonic provide an even wider variety of plant-based meal choices.
Key Takeaway: 
Whether you're looking for a vegan burger or just some classic sides, Sonic Drive-In has plenty of vegetarian options. Check their online menu before visiting, and contact them directly if you have any questions or special requests. With these tips, you can enjoy your delicious meal at Sonic with peace of mind!
Vegan Burgers at Sonic
Discover the delicious vegan burgers offered by Sonic Drive-In. Sonic isn't just about traditional fast-food items like hot dogs and milkshakes anymore; they've added vegan and vegetarian options. So let's dive into some of your local Sonic's scrumptious vegan burger choices.
The Veggie Burger
Sonic offers a Veggie Burger with mushrooms, grains, and seasonings. This tasty option includes lettuce, tomato, pickles, and onions on a warm bun. To make this vegan-friendly burger, ask for no mayo or cheese when placing your order.
Create Your Vegan Burger
If you're feeling creative or looking for something different from the standard Veggie Burger offering at Sonic Drive-In locations nationwide, consider creating your custom vegan burger. Start with ordering a plain hamburger without meat (just the bun) and add any combination of these plant-based toppings:
Fresh lettuce
Tasty tomatoes
Crispy pickles
Zesty jalapenos
Sweet relish
Diced onions
Mild salsa li
Ketchup or mustard sauce (typically considered vegan)
Don't forget to mention any mayo, cheese, or other non-vegan condiments while placing your order. With so many topping options, you can create unique and delicious vegan burgers to satisfy your cravings.

Sonic's Vegan-Friendly Burger Tips
When ordering a vegan burger at Sonic, keep these helpful tips in mind:

Before adding sauces or condiments to your burger, ensure that all ingredients are vegan-friendly.
If you're unsure about an ingredient or topping, don't hesitate to ask the staff for assistance. They are there to help.
Use mobile apps like HappyCow and VegOut to provide additional information on vegan options at various restaurants, including Sonic Drive-In locations.
With these tasty choices and helpful tips, vegans can enjoy a satisfying meal without compromising their dietary preferences when visiting Sonic Drive-In. So go ahead, and give those vegan burgers a try.
Vegan burgers at Sonic are an excellent option for those looking to enjoy a fast-food meal without compromising their vegan lifestyle. Next, we'll examine the diverse salad selections accessible to vegans at Sonic.
Key Takeaway: 
This section provides information on vegetarian options at Sonic, a fast-food chain. Vegetarian customers can enjoy menu items like the Veggie Burger and Grilled Cheese Sandwich without meat.
Sonic Salads
If you're looking for a lighter and healthier option at Sonic Drive-In, their salads are an excellent choice. Some delicious options are available if you're seeking vegan-friendly fare at Sonic Drive-In. Let's dive into the tasty salads that satisfy your hunger while adhering to your vegan lifestyle.
Fresh Garden Salad (Veganized)
The Fresh Garden Salad is an excellent base for creating a satisfying vegan meal. This salad includes fresh vegetables such as lettuce, tomatoes, onions, and cucumbers. To make it entirely vegan-friendly, ask for no cheese or croutons and replace the dressing with one of their plant-based options like balsamic vinaigrette or Italian dressing.
Create Your Own Vegan Salad
Sonic Drive-In allows customers to customize their meals according to personal preferences. You can create your salad by choosing from various fresh ingredients such as:
Lettuce mix (iceberg & romaine)
Tender spinach leaves
Grape tomatoes
Cucumbers slices
Red onion rings
Jalapeno peppers (for those who enjoy spicy food)
Pickle spears
Mild pepper rings
Olive oil blend – perfect for drizzling over your salad.
Dressing Options        
When dressing your salad, Sonic Drive-In offers a few vegan-friendly options. Be sure to ask for one of the following dressings.  
Balsamic Vinaigrette
Italian Dressing
Tips for Ordering Vegan Salads at Sonic Drive-In
To ensure that you have the best experience when ordering a vegan salad at Sonic, keep these tips in mind:
Always specify that you want no cheese or croutons on your salad.
Ask about their plant-based dressing options and choose one that suits your taste preferences.
Don't be afraid to customize. Add extra veggies or toppings if desired.
Finally, if unsure about any ingredients or allergens, don't hesitate to ask the staff for assistance.
Sonic Salads offer various options for vegans, making it an ideal choice when looking for something light and nutritious. Moving on to the next topic, let's explore Sonic's fries and vegan-friendly sides.
Key Takeaway: 
Sonic Salads offer various vegan-friendly options, including Fresh Garden Salad (Veganized) and Create Your Vegan Salad. Be sure to specify that you want no cheese or croutons on your salad and choose from one of the plant-based dressings. If unsure about any ingredients or allergens, don't hesitate to ask the staff for assistance.
Fries and Sides
At Sonic Drive-In, you can enjoy a few vegan-friendly fries and sides without sacrificing your dietary requirements. Here is a list of the most popular choices:
French Fries
Sonic's French Fries are cooked in vegetable oil, making them suitable for vegans. They come in different sizes so that you can choose according to your appetite.
Tater Tots
A classic favorite among fast-food lovers, Sonic's Tater Tots are vegan-friendly as they are cooked in vegetable oil. Enjoy these crispy potato bites on their own or with ketchup.
Pretzel Twist (without Cheese Sauce)
The soft and warm Pretzel Twist is another option for vegans if ordered without the cheese sauce. This savory snack can be enjoyed as a part of any meal or for a quick and convenient bite.
Note: Onion Rings & Mozzarella Sticks – Not Vegan.
Please be aware that some items like Onion Rings and Mozzarella Sticks may seem tempting but, unfortunately, contain animal-derived ingredients such as eggs and dairy products, making them unsuitable for vegans.
In summary, while the selection of vegan sides at Sonic Drive-In might not be extensively compared to other fast-food chains, there still exist tasty options that vegans can enjoy. So, the next time you visit Sonic Drive-In, don't hesitate to try out these delicious fries and sides.
From delicious vegan chili cheese fries to classic crinkle-cut fries, Sonic offers a variety of sides for vegans looking for something tasty. Shifting the focus away from savory side dishes, let's peek at Sonic's range of drinks and desserts.

Drinks and Desserts
Uncover the vegan drinks and desserts available at Sonic Drive-In.
Sonic offers various drinks suitable for vegans, making it easy to quench your thirst while sticking to your dietary preferences. From refreshing slushes to fruit-infused beverages, there's something for everyone on their menu.
Vegan-Friendly Slushes and Beverages
Fruit Slush: Made with real fruit puree, these colorful slushes come in various flavors such as strawberry, cherry, blue raspberry, grape, watermelon, and green apple.
Limeades: A perfect balance of sweetness and tartness can be found in Sonic's limeades. Choose from classic limeade, or add some fruity twist with cherry or strawberry options.
Ocean Water: This unique drink combines coconut flavoring with Sprite for a tropical experience that is both delicious and vegan-friendly.
Iced Tea (unsweetened): For those who prefer a more traditional beverage option without added sugar or artificial sweeteners.
Please note that some other drinks may contain dairy products like milkshakes or cream-based sodas; always double-check ingredients before ordering if you're unsure about any item on the menu.
Dessert Options for Vegans at Sonic Drive-In
Finding vegan dessert options at fast-food restaurants can often be challenging; however, Sonic does offer a few choices to satisfy your sweet tooth without compromising your values. Here are two options to consider:
Fruit Slush Floats: Combine your favorite fruit slush flavor with a refreshing scoop of vegan-friendly sorbet for a delicious and satisfying dessert. Just make sure to ask for the sorbet instead of ice cream.
Ice Cream Cone (without ice cream): While it may not be the most exciting option, Sonic's plain cake cones are vegan-friendly. Enjoy this crunchy snack solo or get creative and top it off with your favorite vegan-friendly toppings.
In addition to these options, you can always check out Sonic's menu online for any new additions or limited-time offerings that might cater to vegans. Don't hesitate to ask questions about ingredients when ordering; the staff will likely be happy to help accommodate your dietary needs.
Satisfy your cravings for something sweet without compromising on a vegan diet – drinks, and desserts are the perfect way to do it. Next, look at the various deals that can help vegans save money while indulging in delicious meals.
Key Takeaway: 
Sonic Drive-In has a variety of vegan-friendly drinks and desserts, including slushes, limeades, iced tea (unsweetened), fruit slush floats, and ice cream cones (without ice cream). Be sure to double-check ingredients before ordering if you are unsure about any items on the menu. Additionally, check the online menu for new additions or limited-time offers that might cater to vegans. Ask questions about ingredients when ordering, and staff will likely be happy to help accommodate your dietary needs.
Special Offers for Vegans
As a vegan, you might wonder if Sonic Drive-In has special offers tailored to your dietary preferences. The good news is that they do. Watch for limited-time promotions and discounts on their vegan menu items.
Vegan Meal Deals
Sonic occasionally offers meal deals specifically designed for vegans. These deals typically include a combination of a vegan burger or sandwich, fries or tots, and a drink at discounted prices. Check their website regularly or follow them on social media platforms like Facebook, Twitter, and Instagram to stay updated on the latest offers.
Limited-Time Vegan Items
Besides standard menu options, Sonic also introduces limited-time offerings that cater to vegans. For instance, they have previously offered plant-based versions of popular dishes like chili cheese tots made with dairy-free cheese sauce and meatless crumbles. Stay up-to-date on Sonic's vegan offerings by subscribing to their newsletter or checking out their website, and reap the rewards of MySonic Rewards if you're a frequent visitor.
Rewards Program Benefits for Vegans
If you're a frequent visitor at Sonic Drive-In, consider joining their rewards program, MySonic Rewards. As part of this program, members can earn points every time they make purchases using the app or online ordering platform – including vegan items. In addition, accumulated points can be redeemed for free food, drinks, and discounts on future orders. Download the Sonic app or create an account on their website to sign up.
Vegan-Friendly Happy Hour Deals
Did you know that Sonic Drive-In offers a daily happy hour from 2 PM to 4 PM? During this time, customers can enjoy half-priced drinks, slushes, and discounted snacks like mozzarella sticks (make sure to ask for them without cheese). Pair these deals with your favorite vegan burger or salad for a satisfying meal at unbeatable prices.
Sonic offers a range of vegan dishes sure to tantalize even the most refined taste buds. However, to ensure you're making wise food choices, knowing the nutritional information available for Sonic's vegan options is critical.
Key Takeaway: 
Sonic Drive-In offers special deals for vegans, including limited-time items, MySonic Rewards program benefits, and Happy Hour discounts. Knowing the nutritional information available for Sonic's vegan options is essential to make wise food choices. Stay updated on the latest offers by checking their website or following them on social media.
Sonic Nutrition Information
Insight into the nutrition information for vegan items at Sonic Drive-In is essential to maintaining a healthy and balanced diet. By understanding the nutritional content of your meal, you can make informed decisions about what to order and how it fits your daily dietary requirements.
Nutritional Facts on Vegan Menu Items
While Sonic doesn't provide specific nutritional facts for every vegan item, they offer general nutrition information that can help guide your choices. Here are some key points to consider when ordering:
Calories: Keep track of the calorie count in each menu item, as this will help you manage your daily caloric intake.
Fat Content: Pay attention to both total and saturated fat levels in dishes, as consuming excessive amounts may lead to health issues over time.
Sodium Levels: High sodium consumption has been linked with increased blood pressure; therefore, monitoring sodium levels in food is crucial for maintaining good heart health.
Dietary Fiber & Protein: Both fiber and protein play essential roles in satiety and overall wellness – ensure that these nutrients are present in sufficient quantities throughout your meals.
Making Healthier Choices at Sonic Drive-In
To make healthier choices while dining at Sonic Drive-In as a vegan or vegetarian customer, follow these simple tips:
Avoid fried foods whenever possible – opt instead for grilled or baked options such as salads or veggie burgers without cheese (if available).
Request dressings and sauces on the side to control portion sizes and reduce calorie intake.
Opt for hydrating drinks such as water, unsweetened iced tea, or other low-calorie beverages instead of sugary options.
Incorporate a variety of fruits and vegetables into your meal for added nutrients – consider ordering a side salad in addition to your main dish.
You can enjoy delicious vegan meals while maintaining a balanced diet by staying informed about Sonic's nutrition information and making mindful choices when ordering. Always remember that moderation is vital.
Key Takeaway: 
When ordering vegan items at Sonic Drive-In, it is essential to consider the calorie count, fat content, sodium levels, dietary fiber, and protein levels in your meal. For healthier choices, choose grilled or baked options instead of fried foods and request dressings and sauces. Additionally, incorporate a variety of fruits and vegetables into your meal for added nutrients. Always remember to practice moderation when eating out!
Conclusion
With Sonic's wide range of vegetarian options, there is something for everyone. Sonic has it all, whether you want a vegan burger or some fries and sides. With their special offers available to vegans as well as nutrition information readily accessible online, eating at Sonic can be an enjoyable experience that fits within your dietary needs. So the next time you need sonic vegetarian options – look no further than your local drive-in.
Also see
Exploring Jack in the Box Vegetarian Options
Vegan Dining at Chilis: Your Guide to Delicious Options
Sonic Allergen and Vegan Information