Whatever your reason for going vegan, entering this phase of your life is a huge step. However, replacing animal and dairy from the diet often creates anxiety among new vegans as they embrace their new plant-based diet.
Adopting a vegan lifestyle and creating delicious vegan meals should be a rewarding and fun experience. In this post, we show you 10 delicious and super-easy plant-based meals prepared with a few ingredients that most people are familiar with. When you can make such delicious meals at home, there is no need to resort to frozen vegan foods.
Once you master the art of preparing these simple dinners, you'll have more experience to move on to gourmet meals that include a whole new range of plant-based offerings.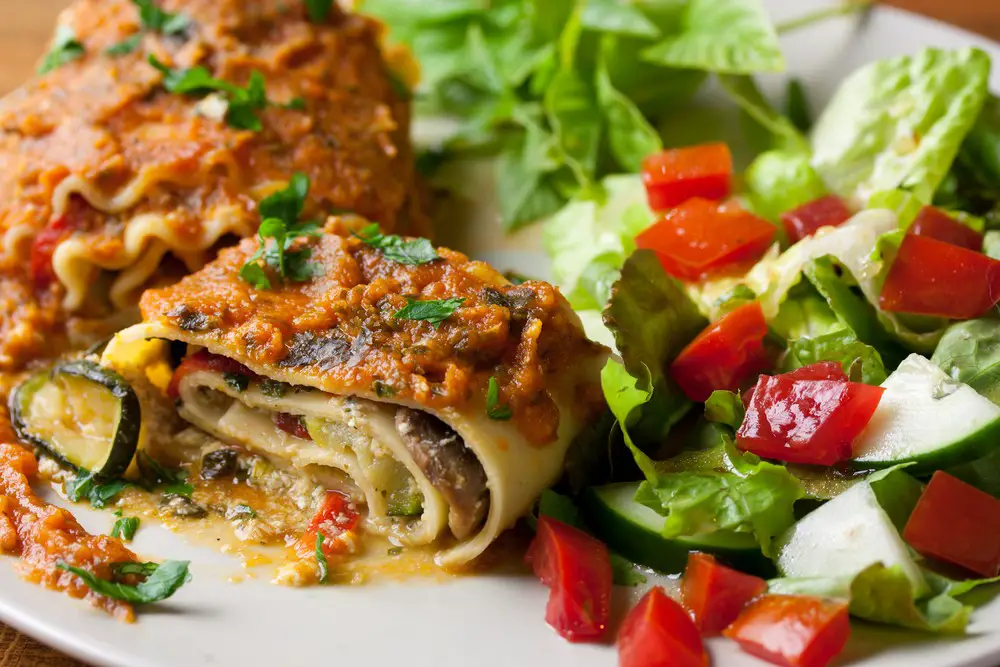 1.     Yummy Roasted Vegetable Grain Bowl
Grain bowls can consist of grain (quinoa, brown rice, etc.), plant-based protein (lentils, chickpeas, baked tofu, etc.), a sauce, and vegetables of your choice. Add a pickle like sauerkraut, jalapenos, or pickled onion for their tangy flavor and some nuts for texture. Here's a delicious roasted vegetable bowl with an irresistible kale and pepita pesto from Love and Lemons.
2.     Zucchini Fritters
When we had plenty of zucchini in the summers, our mother made a vegetarian version of these using eggs and crumbled feta, making this an easy recipe to adapt to a plant-based diet. You will get about 8 fritters from this recipe.
Ingredients
1 T fresh lemon juice
1 T tahini
3 cups grated zucchini
¾ to 1 cup chickpea flour (start with ¾ cup, but add more in your mixture is too runny to hold together)
1 t Dijon mustard
3 T sliced green onions (green portion)
2 T parsley, chopped
3T fresh dill, chopped or ½ t dill seed (if you have neither, you can substitute with ½ t cumin or fennel seed)
½ t salt and ground black pepper to taste
Method
Put aside the lemon and tahini and combine the other ingredients in a bowl. Stir together lemon juice and tahini and mix into the mixture. Allow the mixture to stand for about 15 minutes, adding a bit of flour as it releases some moisture.
Scoop about ¼ cup portions of the mixture in a heated non-stick pan. Flatten it into a fritter shape with the spatula as it cooks on the first side, turning after about 3 – 4 minutes. Then, flip onto the other side and give it another 3 to 4 minutes. The fritters are ready when they have a nice golden color. If you notice they are cooking too quickly, lower the heat to allow their centers to cook correctly.
Serve with salad for a complete meal.
3.     Sweet Potato Boats 
You can use any potatoes and a variety of stuffings to make a satisfying vegan meal. Top your stuffed potatoes with something fresh and sauce for a nutrient-rich and fulfilling plant-based meal. One recipe that receives compliments every time we serve it is this Sweet Potatoes with Coconut Sour Cream and Guacamole from Veg News and developed by Hannah Sunderani, Two Spoons food blogger.
4.     Coconut Curry
Vegetable coconut curries accompanied with naan bread and brown or basmati rice are easy to prepare and keep well in the refrigerator for a few days if you want to prepare them. Try this easy delicious vegetable curry that packs a punchy, spicy flavor.
Ingredients
1 T coconut oil
1 cup chopped onion
2 garlic cloves, minced
½ t grated fresh ginger
½ t cumin
¼ t coriander
¼ t turmeric
¼ t cardamom
1 t sea salt and some freshly ground black pepper
2 cups cubed butternut squash
3 red Thai chiles or ½ jalapeño, thinly sliced
2 cups cauliflower or broccoli florets
1 can full-fat coconut milk
1 t fresh lemon juice
1 t fresh lime juice
4 cups fresh spinach
½ cup fresh or frozen peas
Fresh basil or cilantro leaves for serving
Method
Heat the oil in the pot over medium heat. Add the onion and cook for about 10 minutes, until soft and slightly browned, reducing the heat to low after about 5 minutes.
While preparing the onions, mix the garlic, ginger, cumin, coriander, turmeric, cardamom, and salt in a small bowl. Add these to the pot and stir for about one minute to release their flavors.
Add the butternut squash and chiles to the pot, and cook for 5 minutes, stirring occasionally. Next, stir in the cauliflower or broccoli and peas. Add the coconut milk, and simmer covered for 20 minutes.
Finally, add the lemon, lime juices, spinach, and black pepper. Stir and taste. Adjust your seasoning, adding more lime or lemon juice if needed. Sprinkle with basil leaves or cilantro and serve with rice or naan bread.
5.     Green Bean and Cashew Pesto Pasta
Here's a fresh idea for a tasty pasta dish from Forks Over Knives with divine texture and flavor. The cashew pest lends its creamy and full flavor.
6.     Tofu Egg Salad
Try this delicious tofu egg salad as a sandwich filling or scoop it on leafy greens and serve it with crackers.
Ingredients
⅓ cup vegan mayonnaise
1 T nutritional yeast
2 t Dijon mustard
¼ t ground turmeric
1½ cups extra-firm tofu, cut into small cubes
1½ T freshly chopped chives
½ t salt
¼ t black pepper
Method
Whisk the mayonnaise, nutritional yeast, Dijon mustard, and turmeric in a bowl and whisk. Add the tofu and combine it with the mayonnaise, mixing and mashing with a fork until it has the desired consistency. Gently fold in the chives and seasoning. You are ready to serve. 
7.     Roasted Cauliflower Steaks
You won't miss meat when you try this deliciously easy cauliflower alternative from BBC's Good Food that combines toasted flaked almonds.
8.     Creamy Mushroom Soup
As a newbie to plant-based eating, you want to include mushrooms in your meals for their rich flavor. So here's an easy yet creamy soup to make.
Ingredients
2 T extra-virgin olive oil, plus a little for drizzling
2 cups leeks, chopped
2 celery stalks, diced
16 ounces mushrooms, chopped (cremini works well)
2 tablespoons tamari (for its sweet and sour flavor)
¼ cup dry white wine
2 large garlic cloves, chopped
2 T fresh thyme leaves
4 cups vegetable broth
5 cups cauliflower florets
1 t Dijon mustard
1 t balsamic vinegar
Sea salt and freshly ground black pepper
Method
Heat the oil in your saucepan over medium heat. Add the leeks, celery, and some teaspoon salt. Cook for about 5 minutes, stirring occasionally. Add the mushrooms and cook for 8 to 10 minutes or until soft.
Stir in the tamari, garlic, wine, and thyme. Cook until the wine has evaporated. Add the cauliflower and broth.
Bring to a simmer, cooking it uncovered until the cauliflower softens – about 20 minutes. Adjust seasoning and blitz the soup in a blender with the mustard and vinegar until smooth. You can add a small amount of water to correct the consistency if your soup is too thick.
Toppings you can serve the soup with include a drizzle of olive oil or full-fat coconut milk, some sautéed mushrooms, croutons, thyme leaves, microgreens, or toasted pine nuts.
9.     Chickpea Burgers
Everyone loves a good burger, and these chickpea burgers from Boulder Locavore are both satisfying and tasty.
10. Mediterranean Chickpea and Vegetable Sauté
Vegetable sautés are a favorite summer dish across the Mediterranean because they use freshly picked seasonal vegetables. In this recipe, I used zucchini, but you can replace it with green beans, okra, brinjals, or a mix of all these.
Ingredients
1 onion, chopped
1 large red bell pepper, chopped
5 cloves garlic, minced
1 t dried oregano
3 T olive oil
½ t dried parsley or ¼ cup chopped fresh parsley leaves
3 medium zucchinis, cut into ¼ inch slices
One 15-oz. can of chickpeas, rinsed and drained
1 cup oil-free marinara sauce
1 T white wine vinegar
Sea salt and ground black pepper
8 to 10 fresh basil leaves, chopped
Method
Heat the olive oil in a pot large enough for the quantity over medium and add the first four ingredients. Stirring often, cook for about 10 minutes. Add the zucchini or other vegetables and cook for 10 minutes longer or until tender. Add the chickpeas, parsley, marinara sauce, salt, pepper, and vinegar. When the food boils, immediately remove from the heat, garnish with basil leaves, and serve.
FAQs
What are some easy plant-based meals for beginners?
Some easy plant-based meals for beginners include creamy mushroom soup, roasted cauliflower steaks, vegan mayo tofu salad sandwich, chickpea burgers, and Mediterranean chickpea and vegetable sauté.
Where can I find more recipe ideas?
Many online resources have delicious plant-based recipes, such as the Minimalist Baker blog, Forks Over Knives website, or Oh She Glows cookbook. You could also try experimenting in your kitchen by combining ingredients like vegetables, grains, and beans to create tasty recipes.
What are some tips for making plant-based meals?
Some helpful tips for making plant-based meals include buying fresh ingredients, stocking your pantry with various spices, and prepping ingredients. It's also a good idea to experiment with different flavors and combinations of ingredients to create new recipes. Lastly, don't be afraid to get creative! Plant-based meals can be just as tasty as any other dish.