Ice cream is one of those go-to treats to satisfy any sweet-tooth cravings on a hot summer day. Ice cream is a forbidden fruit for many vegans, but now you can enjoy the cold, creamy sweetness without any dairy!
So, whether you're vegan, lactose-intolerant, or just want to cut back on dairy, this is the easiest vegan ice cream recipe you've ever seen. It's vegan, dairy-free, and easy to whip up in just a few minutes, as long as you prep your tools properly.
Is This Recipe Really Creamy?
It isn't really ice cream if it isn't creamy, so we wouldn't call it vegan ice cream otherwise! One of the secrets to perfect vegan ice cream is the milk.
Many recipes call for ingredients such as almond or soy milk, but these tend to produce a less-than-desirable consistency. Essentially, they aren't thick and creamy enough to make a perfect consistency.
Does it Taste Like Coconut?
Other recipes make creaminess a priority, and unfortunately, this comes at a cost.
The thickest, creamiest non-dairy milk you can find is full-fat coconut milk. While this is great for those who love the taste of coconut, it can leave others with a bad taste in their mouths.
This recipe doesn't use coconut milk, so you don't have to worry about an unwelcome coconut flavor.
Here Are the Five Ingredients
To make this delicious homemade vegan ice cream, you're going to need:
550 ml of oat milk (unsweetened)
170 grams of granulated sugar or sugar substitute
7 ounces of vegan chocolate
60 grams of cocoa powder
Sea salt (just a pinch)
Oat Milk
As we already mentioned, the type of milk you use plays a pivotal role in the consistency of the final product. For example, Almond and soy milk tend to leave the ice cream hard to scoop, flaky, and distasteful. In contrast, coconut milk will leave a coconut aftertaste—which is great if you love coconut, but not if you want chocolate ice cream that tastes like the real thing.
Cocoa Powder
Cocoa powder is essential to this recipe. It will give the chocolate even more depth and round out the flavor of each bite.
Sugar
You don't have to use real sugar here if you're trying to reduce the amount of refined sugar you consume. In fact, there are plenty of healthy alternative sweeteners out there to choose from. Some popular alternatives include stevia and agave nectar.
Sea Salt
You might be making a sweet treat, but don't overlook this essential ingredient. Salt is a crucial ingredient in creating depth of flavor and enhancing the sweetness of your ice cream. You'll only need a pinch, so don't go overboard!
Vegan Chocolate
If you're a chocolate lover, you need not overlook this ingredient. The better the chocolate is, the better your ice cream will be. You can opt to use 85% chocolate or higher. If you prefer a sweeter final product, try using something less concentrated.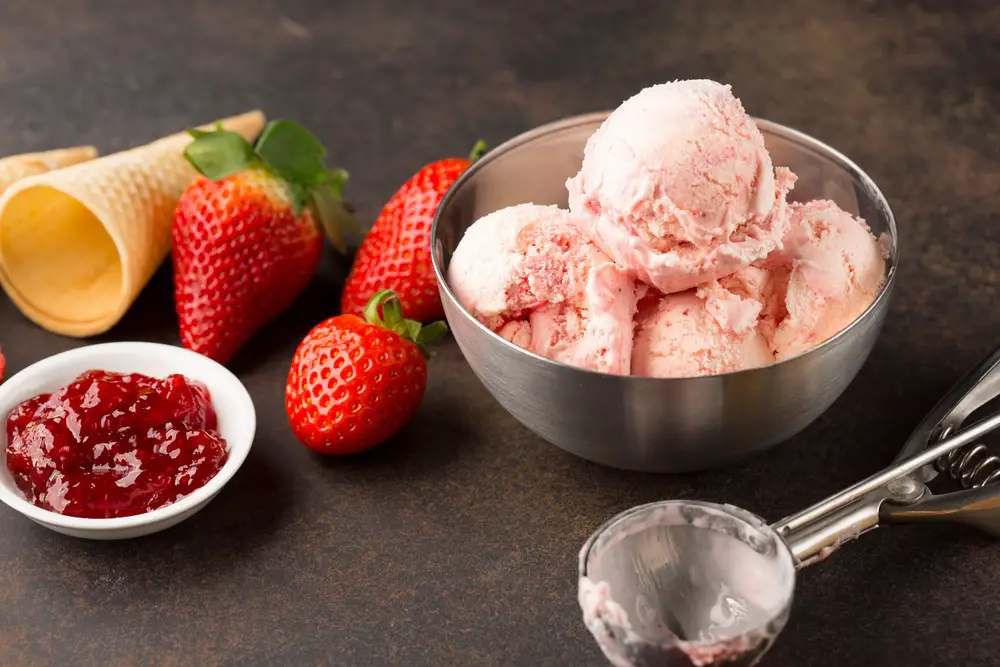 The Easiest Vegan Ice Cream Recipe You've Ever Seen
Step 1: For this step, all you have to do is chill your ice cream canister in the freezer for 24 hours.
Pro tip: make your vegan ice cream anytime you want by keeping your ice cream canister in the freezer and ready to go.
Step 2: Stir all of your ingredients together in a saucepan over medium heat until everything is melted and incorporated.
Step 3: Allow the chocolate mixture to cool for three hours before pouring into your ice cream machine. This step is essential. Ice cream will not form if you add it to the ice cream machine while it's still warm.
Step 4: Add the cooled mixture into your ice cream machine, allow it to churn for 20 to 30 minutes, and serve!
Ingredient Amounts
550 ml of oat milk (unsweetened)
170 grams of granulated sugar or sugar substitute
7 ounces of vegan chocolate
60 grams of cocoa powder
Sea salt (just a pinch)
Final Thoughts
Worried about finding the perfect vegan ice cream? Give this recipe a try, and be amazed at the results!