Dunking an Oreo into milk is how most people grew up enjoying Oreo cookies. But, if you have embraced veganism, you'll have heard the surprising truth about Oreo cookies – they contain no animal products, not even in their filling.
Does this mean you can continue the tradition by enjoying them with your glass of vegan milk? Let's find out the truth about everyone's favorite cookie.
Oreo Cookie History
Oreo cookies hit the market in 1912. The cookies, produced by the National Biscuit Company (today's Nabisco), came to compete against the original sandwich cookie made with chocolate and cream, Hydrox cookies. At the time, Hydrox did not contain lard, an animal-derived fat allowing it to claim its Kosher label.
Oreo couldn't claim the label since its cream filling contained lard. However, due to health concerns, they replaced the lard in their filling with partially hydrogenated vegetable oil in the 19990s.
By 2006, they eliminated trans fat from the cookie's ingredient list and replaced it with non-hydrogenated vegetable oil, making them vegan. However, Oreo's dominance led to the discontinuation of Hydrox in 2003. In 2015, Hydrox returned with a new cookie containing fewer sweeteners, a higher quality cocoa, un-hydrogenated fats, and a complete absence of high fructose or corn syrup.
Oreo remains a best-selling cookie. At any given moment, the average Oreo cookie consumer has a wide flavor variety, but not all are vegan, so check the ingredients and avoid honey Oreos. Their availability in stores makes Oreos a delicious and convenient snack that is also accidentally vegan. VeggL points out that a tweet from PETA a few years ago to convince non-vegans that they can enjoy foods without animal products sparked controversy among vegans. Let's take a closer look at the potential issues.
Oreo and Milk as Cross Contact
Oreo's FAQ says their vegan cookies "have milk as a cross-contact." Therefore, there is a chance of trace quantities of milk being present in them, making them unsuitable for vegans. Nabisco does take steps to clean the line thoroughly between productions, but it may not be suitable for those with severe dairy allergies or other dietary restrictions.
The surprising truth about Oreo cookies is that most varieties don't contain any animal products, not even in their filling. However, Oreo manufacturer does not hide that the facilities making the cookies also handle milk for some of the varieties they produce, including their limited-edition flavors. As a result, they have no animal-derived ingredients, but they have milk as cross-contact.
If you love the flavor of Oreos, their vegan varieties are safe to eat, but not if you are allergic to dairy or don't want milk in your food as cross-contact.
Breakdown of Oreo Ingredients
Vegan Oreo options include the Classic Oreo, Gluten-Free Oreo, Golden Oreo, and double stuff variants. Remember that Oreo changes its ranges occasionally, so look at the packaging each time you want to try something new. Additionally, fudge contains milk, so avoid their fudge-covered or -dipped varieties.
Oreo Ingredient List:
Unbleached enriched flour
Sugar
Palm and/or canola oil
Cocoa
High fructose corn syrup
Leavening
Corn starch
Salt
Soy lecithin
Vanillin
Unsweetened chocolate.
As you can see, there is no mention of dairy or eggs in the ingredient list, even though the company states their cookies aren't suitable for vegans.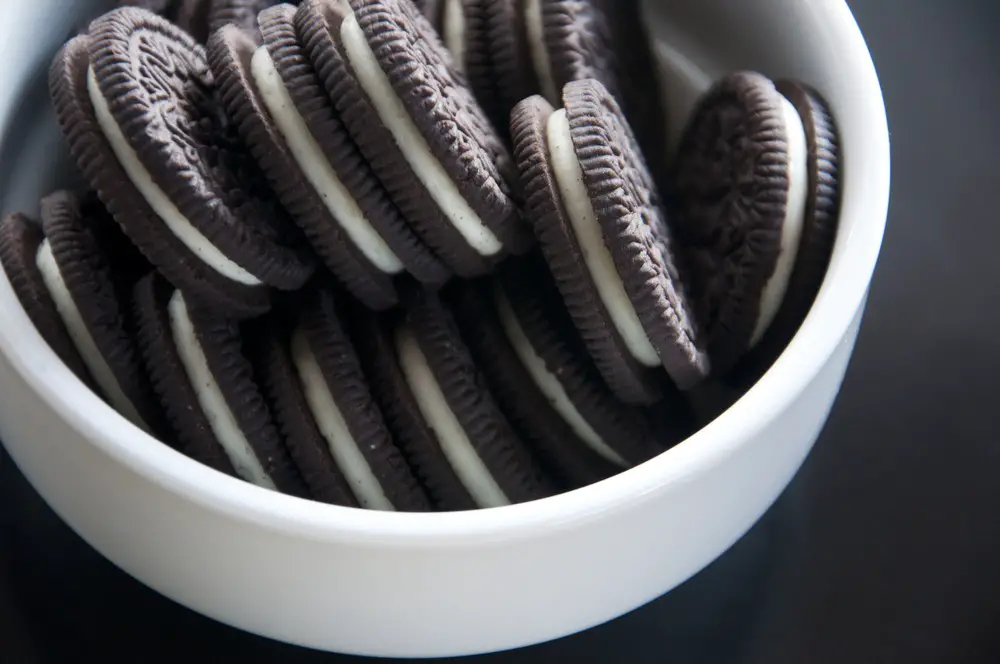 How Suitable Are Oreos for Vegans?
Oreos are not the only foods made in facilities that use animal products for parts of their food production. So at what point can a food product be considered unsuitable for vegans?
PETA often considered the best authority for determining the answer about foods containing trace amounts of animal products, says: "Vegans shouldn't worry too much about tiny traces of animal products in their food. When an ingredient is far down on a list of packaged foods, it contains very little. As long as they stick to their goal to remain compassionate to animals by avoiding their flesh and animal-derived products, a trace of a product won't make a difference.
PETA also provides a list of accidentally vegan foods, including favorites like Lays Barbecue Potato Chips, Hershey's Chocolate Syrup, and Life Original Cereal.
Oreos in a Plant-Based Diet
We have determined that you can enjoy most Oreos as a vegan., but should you eat them?
Besides avoiding animal products, most vegans have other criteria that they base their decision on whether a product is acceptable or not. These include preferring to add whole foods into their plant-based diet and concerns about the farming and production practices that bring these foods to their table.
Fast-food producers make many health and moral claims about their processed foods. So here's a closer look at those Oreo ingredients.
Unfortunately, the ingredients found in an Oreo cookie don't constitute whole or natural foods. Instead, Oreos may contain genetically engineered ingredients, including the high fructose corn sweetener and the emulsifier extracted from soybeans, soy lecithin. Although both these ingredients come from plants, they are not harmless.
Processed Sugars
Sugar-making processes differ, and food producers must ethically check their sources. Unfortunately, some sugar producers use cattle bone char to achieve the white color in sugar.
Oreo doesn't market its product as vegan, meaning consumers don't know they ethically source their sugar.
Palm Oil
Environmentalists and animal rights groups continue to voice their concerns with the use of palm oil since its production often does not follow sustainable or ethical practices.
Not only is land deforested to grow trees for palm oil production, but these areas are cleared by fire, causing cruel animal deaths. Often animals trying to return to these deforested areas are killed by plantation owners or workers. Therefore palm production also creates animal rights issues. Additionally, palm production in Indonesia has turned it into one of the top greenhouse gas-producing nations.
Finally, human rights concerns around palm oil production continue to arise since many farmers use child labor and exploit their other workers.
Oreo continues to claim that since 2014 it only sources more sustainable palm oil, but environmentalists argue they are not doing enough.
Colorants
Of course, the original Oreo cookie contains no color, but the same does not apply to all their varieties. Colorants don't contain animal products but are tested on animals to see what amounts are safe for human consumption.
If your diet standard doesn't allow you to include these ingredients, make Oreos at home by following the recipes provided by VegNews. They may not have the same crispiness or Oreo embossment, but they are as delicious.
Vegan Alternatives to Oreos
If you want to avoid Oreos, there are plenty of vegan alternatives. For example, try Nabisco's Teddy Grahams or Newman-O's if you crave a chocolate cookie. If you prefer something with the same cream filling as an Oreo but without all the processing, try Lenny and Larry's Complete Cookie instead.
Homemade Oreos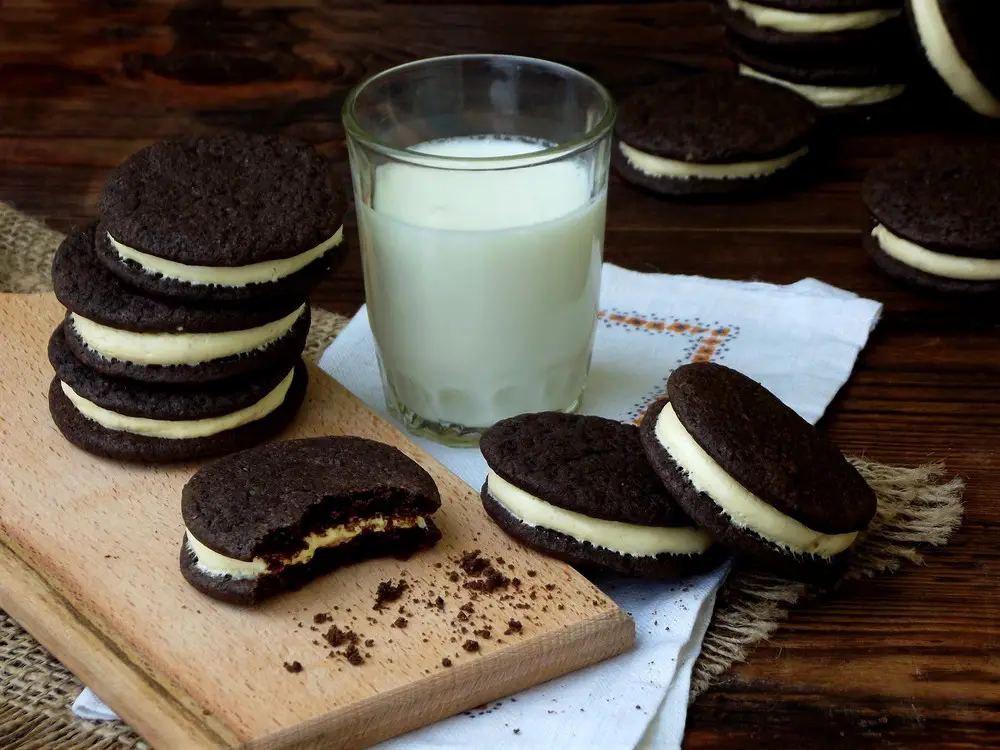 Making them home is an ideal option if you're a vegan wanting to enjoy Oreos without compromising your values. You can find simple Oreo recipe online that requires basic ingredients like flour, sugar, and cocoa powder. This way, you have complete control over the ingredients' quality and can be sure that no animals were harmed in the process.
Simple Recipe
If you're looking for a simple recipe to make vegan Oreos, here it is:
Ingredients
– 2 cups all-purpose flour
– 3/4 cup cocoa powder
– 1 teaspoon baking soda
– 1/2 teaspoon salt
– 6 tablespoons vegetable oil
– 3/4 cup packed brown sugar
– 1 cup granulated sugar
– 1 teaspoon vanilla extract
Instructions
1. Preheat the oven to 375°F and line two large baking sheets with parchment paper.
2. In a medium bowl, whisk together the flour, cocoa powder, baking soda, and salt. Set aside.
3. In a separate bowl, whisk together the oil, sugars, and vanilla extract until combined.
4. Gradually add the dry ingredients to the wet mixture and mix until a soft dough forms.
5. Using a teaspoon or cookie scoop, drop tablespoon-sized dough balls onto the prepared baking sheets. Press each ball down slightly with your finger before baking.
6. Bake for 8-10 minutes or until firm around the edges and slightly soft in the center. Cool completely on baking sheets before serving or filling with vegan cream. Enjoy!
Last Thoughts
Oreos continue to present a burning question about whether they are vegan fare. Depending on your concerns, this article may help you decide if Oreos suit your vegan diet. Of course, whether you plan to give Oreos a place in your vegan diet is entirely up to you, but they have helped many newcomers make their transition to veganism easier.
FAQs
Are Oreos vegan?
Yes, most Oreo varieties in the U.S. are considered vegan-friendly since they do not contain animal products or by-products. However, they may contain ingredients like sugar and palm oil sourced unethically or processed with processes involving animal products such as bone char and animal testing.
What are some alternatives to Oreos?
If you want to avoid Oreos, there are plenty of vegan alternatives, including Nabisco's Teddy Grahams and Newman-O's for chocolate cookie cravings and Lenny & Larry's Complete Cookie for a cream filling without all the processing of an Oreo. You can also make vegan Oreos at home using recipes provided by VegNews.
Are Oreos healthy?
Oreos contain a lot of sugar and are high in saturated fat due to the inclusion of palm oil, meaning they are not considered a healthy food, despite their vegan-friendly ingredients. Eating too many Oreos can lead to weight gain and other potential health issues, so it's important to enjoy them in moderation if you decide to include them in your diet.