Special occasions require special food. So whether you're preparing for a romantic dinner for two or a large spread, we share 13 mouth-watering and simple vegan recipes that will wow your guests for any occasion.
Canapés and Starters
Canapés make an excellent start for any occasion. Present them with your welcome drinks, setting the mood for the rest of your menu.
1. Butternut Soup with Delicious Apple and Sage Croutons
Soup is a wonderful way to start a dinner party for a special occasion. BBC's Good Food combines the sweet flavors of butternut with delicious apple and sage croutons for this impressive gluten-free start to your special occasion.
2. Mini Mushroom and Tofu Quiches
The recipe makes 35-40 small quiches, but you can also use one puff pastry sheet for one regular quiche.
Ingredients
1 T olive oil
1 small onion, finely chopped
1 garlic clove, minced
2 cups mushrooms of choice, sliced
1 T dried porcini mushrooms, rehydrated and drained (optional)
1 T dried or 2 T fresh thyme
1 t truffle oil
1/2 cup cashews, soaked in water for about an hour and drained
1/2 block firm tofu
1/4 cup nutritional yeast
4 tbsp soy milk
1/2 tsp turmeric
salt & pepper to taste
3 sheets vegan puff pastry dough, defrosted
Method
Preheat oven to 375°F.
Heat olive oil over medium heat. Sauté onions and garlic until translucent. Add mushrooms and thyme and cook for about 5 minutes, ensuring the mushrooms are soft. Pulse in a food processor to a fine consistency and set aside.
Grind the cashews in the food processor until fine. Next, add tofu, nutritional yeast, vegan milk, turmeric, and truffle oil, blending until you have a creamy and smooth consistency, adding more liquid if required.
Combine the mushroom and tofu mixture in a bowl—season with salt and pepper.
Grease the mini muffin pans or quiche dish. Use a cookie cutter to cut out dough circles for the mini quiches. The dough must only reach the rim of your baking pan when pressed in. Fill each dough cup ¾ way.
If making the large quiche, line the pie dish with pastry and pour in the tofu mixture. Spread it evenly.
Bake the mini quiches for 30 minutes. The mixture will look set and have a nicely browned crust.
You can prepare by freezing the cooked and cooled quiches in an airtight container. Then, heat the quiches through when needed on a baking sheet for 10-15 minutes in an oven preheated to 350° F.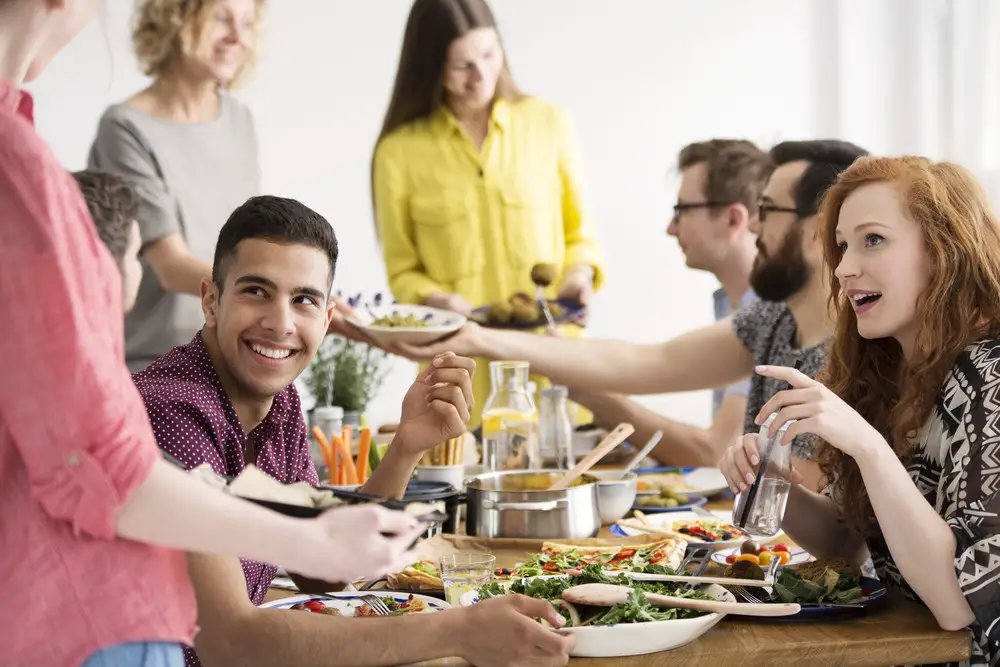 3. Vegan Caviar Canapés
Wow, It's Veggie provides this straightforward recipe for vegan caviar and several ways to serve it that will impress your guests every time!
4. Roasted Tofu Lollipops
Roasted tofu cubes are delicious, and when placed on bamboo skewers, they make for a fuss-free serving. Top the roasted squares with your favorite pesto. This recipe makes 24 lollipops.
Ingredients
1 block of extra-firm tofu
1 t olive oil
1/2 t paprika
1/2 t sea salt
About 4 T pesto
Method
Preheat the oven to 450° F.
Combine the oil, paprika, and salt in a bowl.
Cut tofu into cubes.
Toss it in the mixture to coat.
Place a single layer of tofu tubes on a parchment-lined baking sheet.
Roast for 15 minutes on each side.
Place a bamboo skewer into the side of each cube.
Top with some pesto and serve.
5. Turkish-Inspired Lettuce Cups
Create Turkish-inspired canapés with these stuffed lettuce leaves as seen on Bon Appétit. You can also serve the ingredients in a large bowl as a salad for your main meal.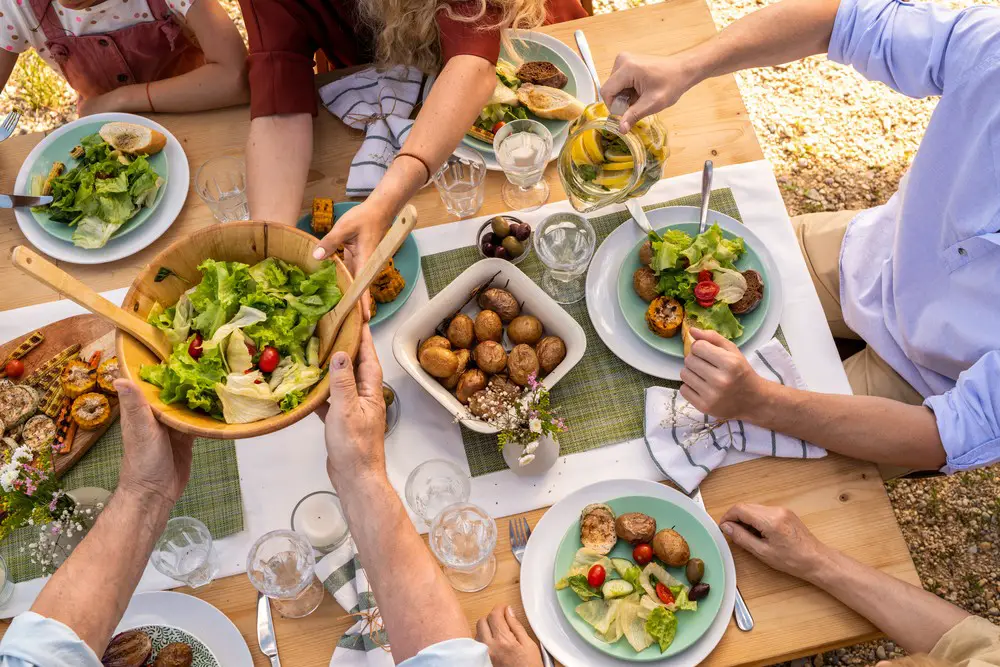 Main Course
Here are some mouth-watering vegan main course ideas that are easy to make for any special event.
6. Pistachio Puree with Roasted Asparagus
You can either serve the pistachio puree from Herbivoracious as a dip on a beautiful platter of vegan cheeses and biscuits as a starter or upgrade it into a delicious main meal with asparagus or other raw or cooked vegetables as a main meal of any special occasion.
7. Easy Pasta with Vegan Cream Sauce
Use your favorite vegan pasta to create this deliciously creamy sauce from beans and water. It never fails to impress!
8. Zucchini Curry
Ingredients
3 medium zucchinis
3 T sunflower oil
1 red onion, finely sliced
1 chili, finely chopped (use two if you want a hotter curry)
3 t finely grated fresh ginger
4 garlic cloves, crushed
2 t garam masala
1 t ground cumin
1 tsp ground turmeric
1 can chickpeas, drained
1 can chopped tomatoes
1 can of coconut milk
Cooked basmati rice and sides of your choice to serve
Method
Trim the ends of the zucchini and halve lengthways. Use a teaspoon to scrape as many seeds as possible from the center. Chop the seed segments and reserve them for later.
Slice the zucchini halves.
Heat oil to a medium heat and fry the sliced zucchini until golden.
Remove the zucchini from the pan and add the onion to the oil, adding a bit more oil if necessary. Fry until onions soften.
Season with salt, pepper, chili, ginger, and garlic, and cook for 2 more mins until starting to soften.
Stir in the masala, cumin, and turmeric and cook for 30 seconds.
Add the chickpeas, tomatoes, coconut milk, and reserved zucchini seeds. Simmer for 10 minutes.
Finally, add the fried zucchini to the pan and cook for another 10 minutes.
You are ready to serve.
9. Best Brinjal Lasagna
You can never go wrong with a lasagna when cooking for guests, and this brinjal lasagna from Veganuary is delicious.
10. Tarte Tatin With Beetroot
The beetroot and red onions combined create the delicious flavors of this upside-down pie. Serve with any interesting green salad combination for a hearty vegan meal on any special occasion.
Ingredients
400g raw beetroot, cut into slices or wedges
1 red onion, sliced
3 T olive oil
2 T rice wine vinegar
2 T soft brown sugar
2 star-anise
Salt and pepper
Flour for rolling
1 roll of vegan puff pastry
Zest from one orange
Method
Heat oven to 390° F.
Toss the beetroot, onion, 2 T of oil, seasoning, vinegar, sugar, and star anise in a bowl.
Oil a round oven-proof and non-stick frying pan with the remaining olive oil and arrange the vegetables neatly, ensuring you cover the entire surface.
Cover with aluminum foil. Bake beetroot mix for about 45 minutes.
Roll the pastry on a floured surface, aiming for a quarter-inch thickness, and cut out a circle that will fit your frying pan.
Remove the pan from the oven and take off the aluminum foil. Make sure the vegetables form a compact layer and place pastry on top.
Tuck pastry edges inward and continue baking for 35 minutes or until the pastry has a puffed-up and golden-brown appearance.
Slide a knife around the tart edge. Then put a plate on top and flip it over carefully.
Top with orange zest and serve.
11. Mushroom Compote Served on Cauliflower Purée with Mushroom Bacon
Vegangela provides a delicious way to serve mushrooms for your next celebration. It may sound intricate, but this dish is effortless to prepare and always causes gasps of delight when presented.
12. Stuffed Butternut Squash
Special occasion vegan cooking does not get any better than this stuffed butternut. The recipe is fast and easy to prepare. So here you have the recipe for two servings; double up accordingly.
Ingredients
1 butternut squash
3 T olive oil
1/4 cup quinoa
Vegetable broth (½ and ¼ cups)
1 T vegan margarine
1/2 cup halved pecans
1 small onion, chopped
1 clove garlic, crushed
1 cup mushrooms of your choice
2 cups spinach
½ t each of sage and thyme
1 T nutritional yeast
Salt and pepper
Instructions
Preheat oven to 375F.
Cut squash into 2 even halves and remove the seeds.
Oil a baking dish with 1 T olive oil. Placing the squash halves on it with the flesh facing down. Bake until tender (about 40 minutes).
Place the cooked butternut halves on a heat-proof surface with the halves facing flesh-side up. Brush them with 1 tbsp olive oil and season with salt.
While the squash is cooking, place the 1/2 cup of broth and the quinoa in a saucepan and bring to a boil. Lower the heat and simmer until cooked (about 15 minutes)
Melt the margarine in a pan and toast the pecans for a few minutes. Remove from the pan.
Now add the onion and 2 T olive oil and sauté on medium heat until soft.
Add garlic and sauté slightly.
Add mushrooms and sauté for about three minutes or until soft.
Add spinach and wilt for about 2 minutes.
Add the quinoa, pecans, sage, thyme, nutritional yeast, and ¼ cup vegetable broth.
Season with salt and pepper to taste.
Fill each squash half with the mixture. Bake for a further 15 minutes.
Serve with a green salad.
13. Chili Without Meat
Here's a non-meat con carne from Olive whose heartiness will impress even the most serious meat eaters. Serve it with rice, salsa, and avocado.
Ingredients
· 2 tablespoons olive oil
· 1 onion, chopped
· 3 cloves garlic, minced
· 1 red pepper, chopped
· 1 green pepper, chopped
· 2 jalapeño peppers, de-seeded and finely diced
· 1 teaspoon ground cumin
· 2 teaspoons chili powder
· 2 cans black beans (drained and rinsed) ·
1 can kidney beans (drained and rinsed) ·
2 tablespoons tomato paste
· 1 cup vegetable broth
· 2 tablespoons lime juice
Instructions
1. Heat the oil in a large pot over medium heat. Add onion and sauté until soft, about 5 minutes.
2. Add garlic, red pepper, green pepper, jalapeños, cumin, and chili powder and cook for 2 minutes more.
3. Stir in black beans, kidney beans, tomato paste, and vegetable broth; boil, then reduce the heat to low and simmer for 20-25 minutes, stirring occasionally.
4. Stir in lime juice before serving with your favorite toppings such as salsa, avocado and cilantro. Enjoy!
These vegan recipes for special occasions will surely wow your diners with their flavor, presentation, and healthiness. You can create delicious and nutritious dishes for all your festivities with a few easy steps. Whether it's stuffed butternut squash or chili without meat, these recipes will not disappoint. Bon appétit!
FAQs
Can these recipes be used for other occasions?
Absolutely! The ingredients can easily be changed up to suit whatever occasion you are celebrating. For example, if you have a summer barbecue, sub out the chili and add a flavorful vegan burger or veggie kebab instead.
Are these recipes suitable for people with dietary restrictions?
Absolutely! Recipes are gluten- and dairy-free and free of animal products – making them perfect for vegans and vegetarians alike. They are also high in fiber, protein, and antioxidants, making them an excellent choice for anyone looking to eat healthier meals. Some ingredients can also be omitted or substituted based on personal dietary needs.
Do I need any special equipment to make these recipes?
No special equipment is required – all recipes can be made with kitchen basics like pots and pans, a cutting board, and oven-safe baking dishes. You may also want a food processor or blender handy for certain ingredients.
What are some other vegan recipes for special occasions?
In addition to the recipes listed above, you could try making delicious vegan stir-fries with fresh vegetables and your favorite plant-based proteins. These savory soups are comforting yet light, or even decadent desserts like chocolate mousse or banana cream pie. The possibilities are endless! Just remember to use the freshest ingredients available.