Enter a world where vegan butter melts over perfectly roasted potatoes, and spicy flavors dance on your tongue. From vegan scalloped potatoes to veggie potato hash browns, every recipe in this guide celebrates the humble spud. These dishes are not just delicious vegan versions of your favorite meals but are also a tribute to the versatility of potatoes.
Each recipe includes thinly sliced potatoes, roasted to perfection or mashed to create a creamy base for vegan potato soup. The spicy flavors in each dish come from a combination of herbs and spices carefully chosen to complement the natural taste of the potatoes. So, get ready to explore the delightful world of vegan potato recipes, where every dish is a masterpiece in its own right.
Comforting Vegan Potato Soup Variations
When it comes to comfort food, nothing beats a bowl of cozy and creamy vegan potato soup. These soups are filling and incredibly satisfying and are made with simple ingredients like potatoes, leeks, oats, and vegetable broth. Whether you prefer a classic potato leek soup or a spicy version with a kick, there's a vegan potato soup recipe to suit every palate.
Special Creamy Pumpkin Potato Soup
Get ready to prepare a deliciously creamy pumpkin potato soup that will surely impress everyone at your table. This recipe is not only vegan, but it's also gluten-free, making it suitable for a range of dietary preferences. The best part? You only need five simple, wholesome ingredients for this dish. It includes potatoes, pumpkin, vegetable broth, garlic, and onions.
Peel and cut your potatoes and pumpkin into cubes, then sauté your garlic and onions until golden brown. Add your potatoes, pumpkin, and vegetable broth into the pot and let it simmer until everything is tender. Blend everything until smooth and creamy. Add salt and pepper to taste, and your creamy pumpkin potato soup is ready to serve. Enjoy this luscious one-pot soup in just 30 minutes.
Belly-warming Vegan Potato Kale Soup
Warm your belly with a bowl of vegan potato kale soup. This vegan soup is rich, hearty, and oil-free, making it a healthy choice for those watching their diet. And don't worry, it cooks quickly whether you're using an Instant Pot or a stovetop, perfect for those busy nights.
Start by sautéing onions and garlic until they are translucent. Then, add potatoes, kale, and vegetable broth to your Instant Pot. Set it on high pressure for 5 minutes. Once done, use the quick-release function. Blend half of the soup until creamy and mix it into the pot. Stir well and season with salt and pepper. Serve hot, and enjoy your belly-warming vegan potato kale soup.
Easy and Quick Vegan Potato and Leek Soup
Looking for a satisfying yet easy-to-prepare meal? Try the vegan potato and leek soup. It's a creamy and comforting recipe that requires only a handful of ingredients such as potatoes, leeks, oats, and broth. Despite its simplicity, the soup is packed with aromatic spices that add depth and complexity to its flavors.
Begin by sautéing your leeks and potatoes until they're tender. Add your oats and broth, and let it simmer for about 20 minutes. Use a blender to purée the soup until it achieves a creamy texture. Stir in your aromatic spices, which could include a combination of thyme, rosemary, and pepper. In just 40 minutes, you will have a delicious vegan potato and leek soup that serves up to 4 people. Enjoy!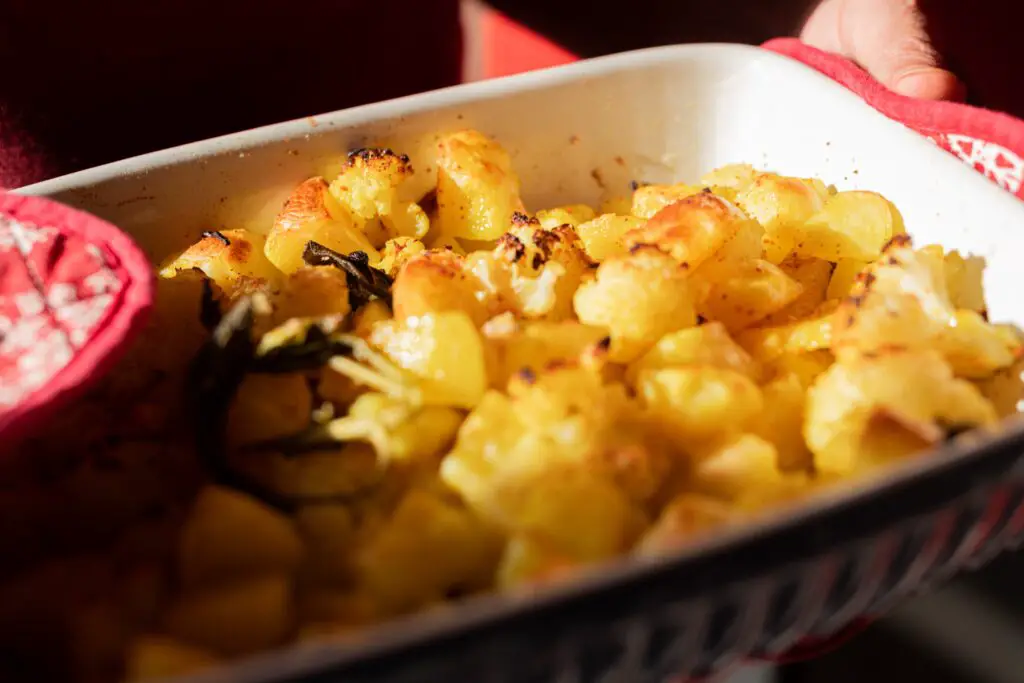 Party-pleasing Vegan Baked Potato Recipes
One of the favorite toppings for a vegan baked potato is a creamy sauce made from pantry staples. Take four large potatoes and carrots and roast them in an oven preheated to 375 degrees for about one hour. While the potatoes are roasting, prepare a creamy sauce using Kite Hill vegan sour cream, fresh green beans, and spices such as cumin and turmeric. The sauce is easily made by combining the ingredients in a blender and blending until smooth.
After the potatoes are done, slice them open and ladle a generous serving of the creamy sauce. Adding crispy potatoes, roasted broccoli, and a drizzle of maple syrup adds layers of flavor and texture. For an extra touch, sprinkle some mushroom gravy on top. This recipe takes about 15 minutes to prepare and is one of the simplest vegan recipes that will surely be a hit at any party.
Healthy Mexican Baked Potatoes
Healthy, delightful, and easy to prep, these Mexican baked potatoes are a perfect meal. Start by baking sweet potatoes in an oven preheated to 375 degrees for about an hour. In the meantime, prepare a filling of potato and lentil spiced with cumin and turmeric. Once the potatoes are baked, split them open and fill with the lentil mixture.
The final touch is a vegan cheese sauce, which is also a great source of Vitamin C. Prepare the sauce by blending cooked potatoes and rice with spices and a touch of nutritional yeast for a cheesy flavor. Pour the sauce over the filled potatoes and serve. These Mexican baked potatoes are a feast for the eyes and a healthy and satisfying vegan meal perfect for meal prep.
Perfect Baked Potato Recipe Mastered
Baking the perfect potato is an art that requires a few tricks to master. The secret to a perfect baked potato is the oven temperature and baking time. Preheat your oven to 425 degrees and bake your potatoes for about an hour. The result is a crispy, salty skin and fluffy potato inside, ready to be filled with your favorite toppings.
For a vegan twist, substitute traditional butter and sour cream with vegan alternatives such as vegan butter and Kite Hill vegan sour cream. Other favorite toppings include chopped fresh green beans, roasted broccoli, and creamy mashed potatoes. This recipe guarantees a delicious, steakhouse-style baked potato every time.
Vegan Mashed Potatoes: A Spin on Classic Favorites
Who says a vegan diet can't enjoy the creamy delight of mashed potatoes? This vegan mashed potatoes recipe is a delicious spin on a classic favorite. Start by boiling peeled and chopped potatoes until they are soft and easily pierced with a fork. Drain the potatoes well and add them back to the pot.
Next, add vegan butter, unsweetened almond milk, and salt to the pot. Use a potato masher or a fork to mash the potatoes until they reach your desired consistency. You can add almond milk if you prefer extra creamy mashed potatoes. These delightfully crispy and soft vegan mashed potatoes are perfect as a side dish for your main course or even as a stand-alone meal.
Creamy Garlic Mashed Potatoes in Vegan Style
For those who crave a bolder flavor in their mashed potatoes, this creamy garlic mashed potato recipe in vegan style is the perfect choice. Start this recipe with 8 ingredients: potatoes, roasted garlic, fresh rosemary, and onion. Boil the potatoes until they are soft and tender. In another pan, sauté the onion, garlic, and rosemary in vegan butter until fragrant.
Add the sautéed mixture and 1 tsp of salt to the boiled potatoes, and mash them together until they reach a creamy consistency. This vegan breakfast or weeknight dinner option is delicious and packed with nutrients. You can also transform the creamy garlic mashed potatoes into potato pancakes for a delightful twist. Enjoy this dish with your favorite vegan gravy or as a side to your main course.
Vegan Roast Potato Salad Delights
You will love this vegan roast potato salad recipe if you're a potato fan. The first step is to roast your potatoes until they're golden and crispy. While the potatoes are roasting, you can prepare the creamy tahini dressing. This dressing is rich and comforting. It adds an incredible depth of flavor to the salad. This step requires tahini, lemon juice, garlic, salt, and pepper.
Once the potatoes are ready, let them cool before tossing them in the creamy tahini dressing. It's time to add fresh herbs, green peas, and vegan bacon. The fresh herbs provide a vibrant color and a refreshing flavor contrast to the roasted potatoes, while the green peas add a sweet, tender crunch. The vegan bacon gives the salad a savory, smoky element that takes it to the next level. Stir everything together until the potatoes are well coated, and your vegan roast potato salad is ready to serve.
Vegan Potato Skins Extravaganza
These vegan potato skins will undoubtedly be a hit at your next gathering. First, bake your potatoes until they're soft inside and crispy on the outside. Once the potatoes have cooled, scoop out the inside, leaving a thin layer of potato on the skin. It gives you the perfect shell to hold all of your delicious toppings.
You'll need sun-dried tomatoes, chives, and vegan cheese for the toppings. The sun-dried tomatoes give the potato skins a sweet, tangy flavor, while the chives add a subtle oniony taste. The vegan cheese melts into a gooey, creamy layer that ties all the flavors together. Add your toppings to the potato skins and bake until the cheese is melted and bubbly. Serve these vegan potato skins at your next game-day gathering or party, and watch them disappear in no time.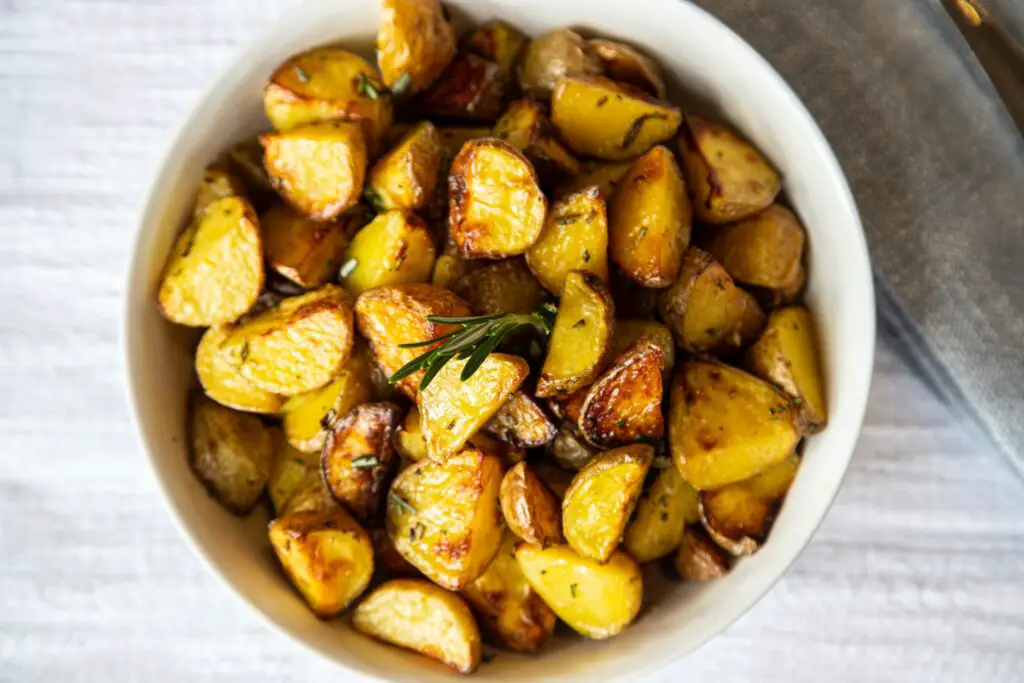 Jazzing up the Air Fryer Potato Recipes
Air fryers have revolutionized how we cook potatoes, making them golden and crispy with only a fraction of the oil used in traditional frying. Try making sweet potato fries or roasted vegetables to jazz up your air fryer potato recipes. Start with just five ingredients: sweet potatoes, olive oil, salt and pepper, and your choice of spices. Each fry is loaded with flavor without any of the mess. With an air fryer, delicious and healthy potato dishes can be ready in minutes.
Air Fryer Baked Potatoes Reimagined
Are you looking for a delightful twist on the classic baked potato? Look no further than the reimagination of air fryer baked potatoes. This simple recipe delivers a tantalizing flavor that will leave you wanting more. Start by choosing your desired type of potato. Once you've picked your potatoes, wash and dry them thoroughly. The next step is to lightly coat the potatoes with your favorite spices. The choice of spices can vary according to taste, but a combination of rosemary, thyme, and a dash of salt is popular.
Once your potatoes are seasoned, it's time to place them in the air fryer. Set the air fryer to 400 degrees Fahrenheit and bake the potatoes for around 40 minutes. This time can vary slightly depending on the size of the potatoes, so be sure to check on them periodically. Once the potatoes are crispy on the outside and soft on the inside, they are ready to be served. This quick and easy dish provides a healthier alternative to traditional baked potatoes and delivers flavor and texture.
Ridiculously Crispy Air Fryer Baby Potatoes
These ridiculously crispy air fryer baby potatoes will become a staple in your kitchen. They are straightforward to make and require only a handful of ingredients. Begin by washing and drying your baby potatoes. Once they are dry, toss them in a mixture of your favorite seasonings. This can include anything from simple salt and pepper to a more complex mix of herbs and spices.
Then, preheat your air fryer to 400 degrees Fahrenheit and arrange the potatoes in a single layer. Bake the potatoes for approximately 20 minutes or until they are crispy on the outside and soft on the inside. Enjoy these crispy baby potatoes as a side dish or a snack. They are gluten-free, vegan, and paleo-friendly, making them a hit amongst various dietary preferences.
Conclusion: Join the Vegan Potato Revolution
It's time to embrace the vegan potato revolution and treat your palate to a gastronomic adventure. Whether you're a seasoned vegan or simply exploring healthier eating options, vegan potato recipes are a great way to introduce diversity to your meals. From comforting soups and mouthwatering baked potato dishes to innovative air fryer recipes, these dishes are bursting with flavor and provide a healthy twist on classic favorites.